Along with Toy Fair, San Diego Comic-Con is known for being one of the major showcases of upcoming toys and statues. This year has been no different, giving fans some sneak peeks at several Flash-related figures.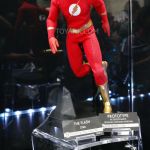 There's a truly amazing 1:6 scale Flash figure coming out from Sideshow Collectibles. I don't think the release date or price (Sideshow tends to have high-end products which are priced accordingly) have been announced yet, but it's awfully tempting. There will also be a Green Lantern, Superman, and Batman released in the same line, and you can see some more photos here.
See more after the jump.