Along with Toy Fair, San Diego Comic-Con is known for being one of the major showcases of upcoming toys and statues. This year has been no different, giving fans some sneak peeks at several Flash-related figures.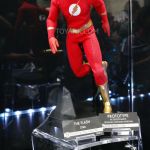 There's a truly amazing 1:6 scale Flash figure coming out from Sideshow Collectibles. I don't think the release date or price (Sideshow tends to have high-end products which are priced accordingly) have been announced yet, but it's awfully tempting. There will also be a Green Lantern, Superman, and Batman released in the same line, and you can see some more photos here.
See more after the jump.
The Grant Gustin Flash figure was recently seen here on Speed Force, and is currently displayed in a nice diorama with some Arrow figures at SDCC. You can see some of the diorama shots here.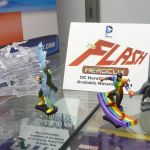 My personal favourite is the peek at a few figures from the Heroclix Flash set, which is due out in November. Can you believe we're getting a pre-New 52 Rainbow Raider? Weather Wizard has been shown before in promotional photos, but the running clear plastic Flash is new too, I believe. I'm tremendously excited about Rainbow Raider, who I thought we'd never see, and it'll be his first-ever release in any kind of figure form. You can see more photos of the Heroclix display here.
What do you think of these figures? Anyone planning to pick some up?
Share