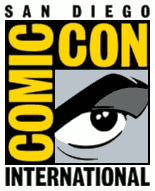 I'll be attending Comic-Con International in San Diego next week. For the last few years I've been posting reports during the con at my other blog, K-Squared Ramblings, and I'll continue that this year in the Comic-Con 2008 category. I will be posting stuff here as well, especially anything Flash-related — like these Flash hall costumes from last year, or the 50 Years of the Flash panel two years ago.
This will be my 19th year at the con, which I've attended every summer since 1990. Scary numbers, there.
If you're interested, here's a list of my past convention reports and photos, including San Diego from 2003-2007, Wizard World Los Angeles from 2007-2008, and WonderCon 2008.
Share