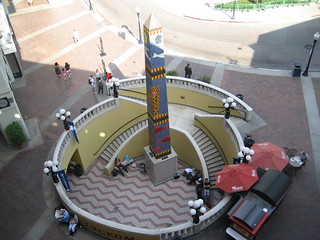 As a follow-up to my last Comic-Con Tip — catch a play or concert at a downtown theater — I've compiled a list of events going on in or near Downtown San Diego during the convention.
I'm sure there's more going on — these are just the events I found online. And of course San Diego is a big city, so there's lots of stuff going on outside of the downtown area.
Downtown
Plays and Movie Screenings
Rocky Horror Picture Show screening Wednesday 11:00pm at the Lyceum Theatre
Repo! The Genetic Opera screening Saturday 12:00am* at Gaslamp Stadium Theaters.
Godspell Thursday-Sunday at the Horton Grand Theatre
Jazz Queens Cast Blue Shadows Thursday-Saturday at the Lyceum Space Theatre
Lebowski Fest, Sunday 6pm at House of Blues.
Comedy
Demetri Martin Saturday at the Spreckels Theatre
Brian Posehn & Doug Benson, Friday 8pm Balboa Theatre
Tim and Eric Live, Friday 12:00am* at 4th and B. (Also, Awesomecon on Saturday)
Music
Richard Cheese Wednesday at 7:00pm at the House of Blues (main stage)
Modern Day Moonshine on Thursday at 7:00pm at the House of Blues (Voodoo Stage, free)
West of Memphis on Friday at 7:00pm at the House of Blues (Voodoo Stage, free)
Private Domain on Saturday at 7:00pm at the House of Blues (Voodoo Stage, free)
Sci Fi & UCP Present Bear McCreary: the Music of Battlestar Galactica Thursday-Saturday at the House of Blues
Van Hunt Sunday at 7pm at House of Blues (Delta Room)
I know there's got to be more going on, but for some reason the only downtown events I could find online were at House of Blues.
Nearby
All Over Town
There is, of course, lots of stuff going on in other parts of San Diego, so if you're willing to do some driving, take a cab, or are already staying outside of downtown, check out Sign on San Diego's Comic-Con Guide. Actually, check it out anyway. They've got local restaurants, bars and nightclubs,
Theater Scouting
I've been to the Spreckels Theatre, the Lyceum, and the Voodoo Stage at the House of Blues (just last month). The Spreckels is a medium-sized theater hidden inside an office building at Broadway and 1st near Horton Plaza. The Lyceum is actually below Horton Plaza, with a sunken entrance at the north end of the mall (pictured above, with the obelisk). The House of Blues is just north of Broadway on 6th and takes up the entire width of the block. The Voodoo Stage is actually a small raised platform
I've also walked past the Horton Grand Theatre several times, and keep forgetting I've already taken photos of it. It's on 4th next to the Horton Grand Hotel.
*Several events are listed as being 12:00am on (for example) Friday a certain day. I suspect in most cases they mean midnight at the end of Friday evening. Taken literally, it would mean 12:00am Friday morning, or Thursday evening.
Share