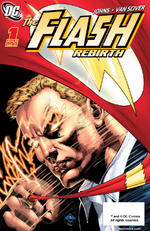 The writers and artists have changed. The face under the Flash's mask has changed. But there's one thing that the three Flash relaunches we've seen since Infinite Crisis all share: pacing.
For some reason, every time DC has relaunched the Flash lately, they've done it with a slow burn.
Rising Action: Speedsters Slowing Down
Now, I have no problem with slow burns in general. I really did like most of Final Crisis, for instance (and that was almost all slow burn), and as frustrating as Flash: Ignition was at the time, I really like the story in retrospect — but as a break from the crazy pace of Run Riot and Blitz. Just about everything I've read or watched by JMS has used a slow build-up to something huge, from Babylon 5 to Squadron Supreme (some to better effect than others).
But I don't think it's the best structure to launch a character whose main claim to fame is speed…especially when it's serialized.
Quick Starts

In 1940, Flash Comics #1 featured a 15-page origin story starring Jay Garrick. He got his powers, appeared in costume, and solved a case all in 2/3 the space typically available to a modern comic book. (Admittedly, comic book storytelling was much less detailed at the time.) The series lasted 10 years and spawned a spin-off series All-Flash as well as a regular solo feature in Comic Cavalcade.

In 1956, Showcase #4 featured two stand-alone stories starring Barry Allen. The first one introduced the character, gave him his powers, had him appear in costume and defeat a villain. Again, in half an issue. After several more try-outs, The Flash launched in 1959 and lasted 26 years.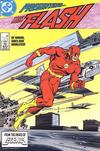 In 1987, Flash vol.2 launched with a two-part story starring Wally West. He already had the powers and costume, and the two-parter split its time between establishing his character and fighting a villain. The series lasted 19 years and ended only because DC wanted to replace the Flash again for its sequel to Crisis on Infinite Earths.
What do these three successful launches have in common? What's different about them when compared to the 2006 launch of Flash: The Fastest Man Alive or the 2007 relaunch of Flash vol.2?
They opened with stories, not with setup.
Plodding
Now let's look at the last few years.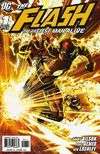 2006. Flash: The Fastest Man Alive launches with a 6-part epic. Bart Allen spends the first issue moping around. In issue two his roommate gets super-powers. On the last page of issue #2, Bart finally puts on the Flash costume. It takes 6 issues before anything is resolved, like defeating the main villain, offering a hint about why Bart aged 4 years between two issues of Infinite Crisis or where Wally and his family went, or getting Bart to act a little bit like the impulsive hero he used to be. By issue #8, DC decides to end the series quickly and brings in a new creative team to kill the character off.
2007. Flash vol.2 picks up again where it left off, with a 6-part epic. A short adventure at the beginning leads into Wally and Linda talking about their kids for most of the issue until an alien shows up on the last page. The next few issues focus heavily on the kids and on flashbacks. By the time the story is finished, fan reaction is so bad that Mark Waid drops the book like a hot potato. The series manages one more storyline (another 6-part epic!) before DC decides to pull the plug and brings in yet another creative team to wrap things up.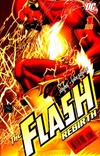 2009. Flash: Rebirth stars Barry Allen in yet another 6-part epic. The first issue features a few hints of conflict and speed, but mostly Barry mopes around and talks to his friend Hal. The second issue offers a few more hints, and the third finally completes (we hope) the setup. He's still acting very un-Barry-like here, but seems more like his old self over in Blackest Night. Sales are good, but critical reception has been mixed and dropping, with the major complaint being that it's moving too slowly. It doesn't help that half-way through, the book stops dead for nearly 3 months.
Sure, these relaunches are being written with the eventual collected editions in mind. Most comics are, and in general that's fine if you want to tell a story that can use the space.
The problem is that Flash: Rebirth isn't just a story. It's also a relaunch. Its job is more than just selling hardcovers and paperbacks over the next dozen years. It's immediate job — probably its more important job — is convincing readers now to start reading The Flash again and keep reading after Rebirth concludes.
Full Speed Ahead
Remember "One Year Later?" After Infinite Crisis, all of DC's storylines jumped ahead one year. Some series essentially started over and set up a new direction, but others hit the ground running and filled in the gaps along the way. Outsiders certainly had its faults, but that's one thing it got right.
I think DC should have done this with The Flash.
Imagine a parallel world in which DC didn't spend a year building up to Flash: Rebirth, another 9 months on Flash: Rebirth itself, then three months on Blackest Night: The Flash before launching a new series two years after his return. (April 2008 to March 2010 at the earliest.)
Imagine instead that DC simply relaunched the book, stopped focusing on Wally West, and started focusing on Barry Allen. Now imagine that they started with a series of done-in-one or two-part stories in which the reader would get a complete story every month or every two months, while issues like Wally's status and setup for future stories are dealt with in continuing subplots.
Now imagine that after 6 months to a year of actually seeing Barry Allen be awesome on a regular basis instead of being told that he's awesome, then we get a big, epic Flash story.
Wouldn't that be fantastic?
As things are now, it feels like the Flash has been taxiing around the runway for the past year, and won't actually go anywhere for another six months.
(Expanded from a comment at Rokk's Comic Book Revolution).
Share