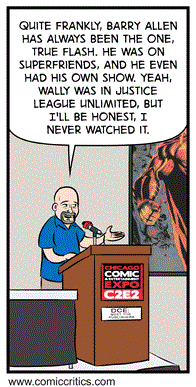 First off, sorry for the lack of updates last week. Sometimes, life gets too busy to blog.
There's been a lot of talk about Wally West since C2E2 panels brought up the usual non-answers, and a Bleeding Cool reporter accidentally asked Dan Didio about Wally.
He explained that fans had grown up with Wally West, seen him get married and have children and with the de-aging of Barry Allen, it would cheat those fans who grew to love Wally to de-age him as well.
As a justification, it's a bit disingenuous. "We shouldn't do to Wally what we did to Barry" kind of suggests that maybe they shouldn't have done it to Barry either. And while there's something to "We're making your favorite character go away because we know you wouldn't like what we do with him," it seems like it would rank right up there with "I don't want to ruin our friendship by dating you" on phrases that people like to hear.
At Boston Comic Con, Francis Manapul mentioned a rejected a Wally cameo that he tried to put into an early issue of the New 52 Flash.
He doesn't say how Wally would have appeared, and frankly, that's a problem in itself. A few months ago when I met Brian Buccellato at a signing, he pointed out that having Barry Allen young and Bart Allen as Kid Flash kind of squeezes out Wally: Wally should be somewhere between Barry and Bart. But if Barry never died, and Bart's already Kid Flash, where does that leave Wally?
There's just no room for Wally West in the DCnU.
I kind of suspect that's by design: A lot of Didio's statements line up with that first panel of Comic Critics up above (though I'm sure he did watch Justice League Unlimited – and note the reference to the same nostalgia cycle I talked about recently), and he's often talked about how Barry Allen is "more iconic" and otherwise superior to Wally West. I've long thought, cynically, that "more iconic" means "the version I grew up with," but as I mull over the words reported by Bleeding Cool, I think it means something else. Continue reading →