Well, the streak had to end sometime, and DC has rescheduled two upcoming Flash issues.
Before you freak out, Blackest Night: The Flash is still starting next week!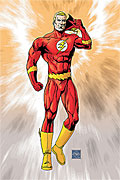 However, DC has pushed Flash: Rebirth #6 from December 23 to January 27, 2010. That's 10 weeks from the November 18 release of issue #5, comparable to the gaps between #3 and #4 (11 weeks) and between #4 and #5 (12 weeks). Flash: Rebirth #1–3 shipped on time, with 5 weeks between each issue.
January 27 came in fourth in the reader poll I ran a few weeks ago, with 14% of the vote. February came in first with 20%, and December 23 and "April or Later" tied for second. (I only listed specific dates for December and January.)
Meanwhile, Blackest Night: The Flash #2 has been given an extra week, and should ship January 20.
For now, Blackest Night: The Flash #3 is holding to its original date of February 17, so it should wrap in plenty of time for the Secret Files book in March and the new ongoing series in April.
Edit: Here's my previous breakdown of the schedule, including the delays and the gaps. It's current through the final release date of #5. At this point I'm going to wait until I have #6 in my hands before I update it.
New poll: Which will end first, Flash: Rebirth or Blackest Night: The Flash?
Share