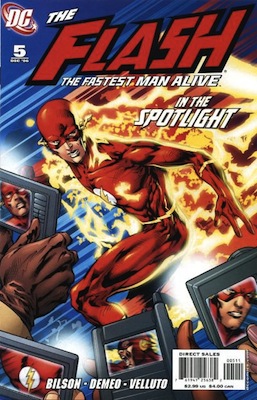 Speed Force has reached three milestones over the last few weeks:
Wow!
It seems like just a few months since I hit the 500th post, but it really was almost a year ago. For this post, I figured Ken Lashley's cover to Flash: The Fastest Man Alive #5 would be appropriate, because documenting the Flash is what this site is all about. (Thanks, GCD!)
The 1,000th blog post was last week's post on action figure updates by Devin "The Flash" Johnson. The 500th Twitter follower was @ImpulseDesigner, though I seem to have lost a few since then — it's down to 498 now. I'm not sure who the 300th Facebook fan was, though.
Thanks to all the readers, and thanks especially to Devin for stepping in as Speed Force's second major contributor!
Oh, and there are two more milestones coming up soon: We're closing in on 4,000 comments sometime in the next few weeks…and two full years online in mid-June!
Share