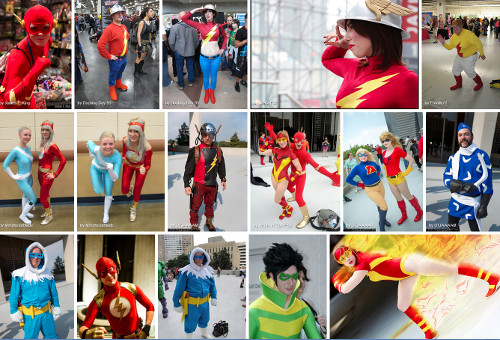 I keep meaning to plug this on the blog: We've got a Speed Force photo pool on Flickr. Unlike Instagram, where we're posting our own con photos, on Flickr we're providing a space to highlight everyone's *ahem* Flash photography. Photographers can contribute their pictures of Flash, Rogues and other speedster cosplayers, collectibles, and sightings.
It's fun to see the variations people come up with, from costume designs and poses to photo composition. (I like to think I'm a passable photographer, but looking at some of these shots reminds me that my convention photos tend to be a lot more snapshot than art.) Update: Check out this awesome photo shoot from NYCC featuring the female Jay Garrick in this gallery and a Wally West cosplayer.
Check it out, and if you're on Flickr yourself, feel free to join the group!