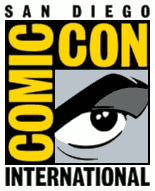 Comic-Con International has posted the Thursday schedule for the convention, and DC Comics has posted their own panel schedule. Events that will likely be of interest to Flash fans include…
Updated with more Friday programs.
Updated with more Saturday programs.
Updated with Sunday and Artists' Alley
Updated with Francis Manapul's signing schedule.
Updated with Velocity-related info.
Updated with Mark Waid's signing schedule.
Updated with Top Cow's Velocity-related signing schedule.
Thursday, July 22
11:30-12:30 DC NATION Convention Kickoff!
The DC NATION invades San Diego — and you're invited along for the ride! Come celebrate the start of what promises to be an unforgettable convention experience! Your hosts, DC Co-Publishers Dan DiDio and Jim Lee, get the party started here! The NATION welcomes all. Room 6DE
2:00-3:00 DC Focus: Geoff Johns
Geoff Johns' storytelling and creativity fueled event blockblusters Blackest Night, the new Brightest Day and the character rebirths of Green Lantern and The Flash. As the new Chief Creative Officer of DC Entertainment, you can expect Geoff to deliver even more thrills and excitement as his focus shifts to bringing the DCU to life outside of the comics starting with the Green Lantern film and many other surprises! Don't miss this panel hosted by Eddie Berganza, Group Editor, interviewing one of the most exciting talents in comics. Room 6DE
4:30-5:30 DC Comics' 75th Anniversary
75 years ago Major Malcolm Wheeler-Nicholson started a comic book company (National Allied Publications) that pioneered the use of new material (as opposed to comic strip reprints) in its books. In 1938, Action Comics #1, featuring Superman, came along, and the rest—as they say—is history. And what a history it is! DC Comics celebrates its 75th anniversary this year. Moderator Paul Levitz (writer, editor, and former president and publisher of DC) starts the Comic-Con celebration with panelists Dan DiDio and Jim Lee (co-publishers, DC Comics), Geoff Johns (chief creative officer), and Comic-Con special guests Jenette Kahn (former president and publisher), Dennis O'Neil (writer/editor, Batman), and comics legend Jerry Robinson (Batman). Room 6DE
7:30-9:30 First Look! Secret Origin: The Story of DC Comics
Behind the amazing tales of Superman, Batman, Wonder Woman and Watchmen is the equally impressive story of the challenges, creativity and triumphs of the company that brought those characters to life. Warner Home Video and DC Entertainment present a first look at the new documentary Secret Origin: The Story of DC Comics, a compelling insider's tale and a 75th anniversary celebration as seen through the inkwells of those who created and lived it, balanced with insights from key historians and filled with interviews, archival footage, and a dazzling parade of those forever riveting and splashy DC covers. Included in the premiere event is a panel of distinguished representatives of DC's storied history. Produced by the Academy Award–nominated team behind Spellbound, this documentary is narrated by Ryan Reynolds (Green Lantern) and will be distributed by Warner Home Video in November 2010. Room 7AB
7:30-8:30 Transcending Trauma: From the Birth of Batman to the Rise of the Red Hood
Traumatic experiences are a common element in the origins of many comic book characters, but do these experiences alone explain the characters' paths to heroism or villainy? What drove Batman to become a hero instead of a "nemesis"? Was Robin destined to become a "hood"? Do characters such as the Incredible Hulk, Iron Man, and Punisher meet criteria for posttraumatic stress disorder (PTSD)? Returning to Comic-Con after their "Unlocking Arkham" panel last year, the physicians of Broadcast Thought explore how trauma has affected these and other characters. Examine comic book depictions of responses to trauma, evaluate their accuracy, and discover their real world correlates. Learn as H. Eric Bender, M.D., Praveen R. Kambam, M.D., and Vasilis K. Pozios, M.D. use their backgrounds in child/adolescent, adult, and forensic psychiatry to discuss responses to traumatic experiences and apply theories of attachment, development, and resiliency to the formation of the hero. Bring your questions and join the doctors as they lend their unique expertise to Comic-Con, exploring how comic book characters transcend trauma or descend into villainy! Room 8
Friday, July 23
10:30-11:30 Batman: The Brave and the Bold Screening and Q&A
The Caped Crusader swings back into San Diego as Batman: The Brave and the Bold returns to Comic-Con for its third consecutive year, with an advance screening of an upcoming episode as well as a lively discussion with voice of Batman Diedrich Bader (Surf's Up), executive producer Sam Register (Teen Titans), producers James Tucker (Justice League Unlimited), and Michael Jelenic (The Batman), and voice director Andrea Romano (Superman Doomsday). As a special bonus for fans, the panel will also screen the world premiere trailer for the upcoming and highly anticipated Cartoon Network/Warner Bros. Animation series Young Justice…don't miss this Comic-Con exclusive! From Warner Bros. Animation, Batman: The Brave and the Bold airs Fridays at 7:30 pm ET/PT on Cartoon Network, and Batman: The Brave and the Bold—Season 1, Part 1 will be released on DVD August 17. Room 6A
1:00-2:30 Comic-Con How-To Session: Whilce Portacio and Francis Manapul
Acclaimed artists Whilce Portacio (Uncanny X-Men, Image United) and Francis Manapul (The Flash, Adventure Comics, Superman/Batman) will demonstrate how to create and draw characters for comic books. Room 18
4:15-5:15 DC NATION Special Edition
It's the DC Nation State of the Union address as DC Co-Publishers Dan DiDio and Jim Lee join forces to give fans all the info they can handle! With those two leading the NATION, expect the unexpected! The NATION welcomes all! Room 6DE
Saturday, July 24
12:30-1:45 DC Universe: Event Horizon
Ian Sattler, Senior Story Editor, and your favorite writers and artists are here for the main event: The DC Universe! What lies ahead for your favorite heroes and series? Got a question for your favorite DCU creator? Come on by! There's no greater gathering of top-tier creative talent! Room 6A
3:15-4:15 No Ordinary Family: Exclusive Premiere
This is No Ordinary Panel! Michael Chiklis (The Shield), Julie Benz (Dexter), and executive producers Greg Berlanti (Green Lantern), Jon Harmon Feldman (Tru Calling), and David Semel (Heroes) present an exclusive screening of the new ABC series No Ordinary Family. After the screening, join them for a Q&A session and find out more about the superpowers that made this family go from ordinary to extraordinary overnight! Plus, everyone in the room will receive a surprise. Room 6A
Note: I've included this on the list because Julie Benz' character is reportedly a speedster.
3:30-4:30 DC Universe Online: The Next Legend Is You!
Superstars Jim Lee (Batman: Hush) and Mark Hamill (voice of The Joker, Batman: Arkham Asylum and Batman: The Animated Series) join forces with the DC Universe Online development team to reveal the exciting backstory of this action MMO (Massively Multiplayer Online) game. Jim, Mark, and key members of the development team from Sony Online Entertainment discuss how an earth-shattering chain of events will make you the key to the salvation or ruin of the DC Universe when the game launches this November. All attendees will receive a DCUO VIP Beta Key! Room 5AB
Sunday, July 25
2:00-3:00 DC Focus: Premiere Teams
DC Comics knows a thing or two about teams. From the company that brought you the first team in comics' history (Justice Society of America) don't miss this panel on the DCU's top teams roaming Earth (JLA, JSA, Secret Six, Titans), the farthest reaches of space (R.E.B.E.L.S.) and even across time (Legion of Super-Heroes)! Senior Group Editor Mike Carlin is joined by Tony Bedard (R.E.B.E.L.S.), Marc Guggenheim (Flash), JT Krul (Titans), Paul Levitz (Legion of Super-Heroes), James Robinson (Justice League of America), Matthew Sturges (JSA All-Stars) and others for this collaborative panel! Room 6A
3:00-4:00 DC Town Hall Meeting
All are welcome to join DC Co-Publishers Dan DiDio & Jim Lee for a relaxed Sunday afternoon discussion. Share your thoughts on what you love about comics now and what you hope to see in the future! Room25ABC
3:00-4:30 Comics Pro/Fan Trivia Match
Len Wein (Microbots), Kurt Busiek (Kool-Aid Man), and Mark Waid (Batman Electric Talking Toothbrush) face off against fans Tom Galloway (former Google employee), David Oakes (college professor), and Michael Grabois (rocket scientist) in a match on significant pre-Crisis DC events in celebration of DC's 75th anniversary. Peter David (Captain America's War on Drugs) will moderate. Room 4
Artists and Writers
Long-time Flash writers Geoff Johns and Mark Waid are all over the schedule. Johns makes a lot of appearances as DC CCO or in relation to Green Lantern, and Waid is heavily involved in the BOOM! Studios programming, as well as Marvel Comics. Chances are pretty good that DC will hold a signing featuring Geoff Johns at some point, and that Mark Waid will be at the BOOM! booth sometime during the weekend.
I was surprised to see how few Flash artists are scheduled to be there this year, but I only found three in the Artists' Alley list:
Francis Manapul (Flash) at table EE-17
Todd Nauck (Young Justice) at BB-13
Freddie Williams (Flash) at EE-13
Francis Manapul has posted his schedule, including the following signings at the DC booth:
Thursday, July 22: 11 am – 12 pm
Saturday, July 24: 4pm – 5 pm
Sunday, July 25: 1:30 pm – 2:30 pm
BOOM!'s schedule includes a number of Mark Waid and Peter Krause signings (focusing on Irredeemable and Incorruptible).
Wednesday: 6:00 – 7:00pm
Thursday: 12:30 – 1:30pm
Thursday: 5:00 – 6:00pm
Friday: 2:00 – 3:00pm
Friday 6:00 – 7:00pm
Saturday: 2:00 – 2:45pm
Saturday: 5:00 – 6:00pm
Sunday: 2:00pm – Mark Waid IRREDEEMABLE signing @ Barnes & Noble Mira Mesa
Looking at other speedsters, the Velocity team of Ron Marz and Kenneth Rocafort will be appearing at the Top Cow booth. though the schedule has not yet been finalized. Here's Top Cow's schedule via The Beat. Naturally, the signing with the Velocity team overlaps with the DC Nation kickoff…
Thursday 12:00 – 1:30pm: Ron Marz, Kenneth Rocafort
Friday 11:00 – 12:00pm: Kenneth Rocafort, Marc Bernardin, Adam Freeman, Richard Fairgray
Friday 1:30 – 2:30pm: Ron Marz
Saturday 11:00 – 12:00pm: Kenneth Rocafort
Saturday 11:30 – 1:00pm: Ron Marz, Michael Broussard, Troy Peteri
Sunday 4:00 – 5:00pm: Kenneth Rocafort, Michael Broussard
Share