Sorry this is a bit late, but for those who don't already know DC Direct showed off pics of a slick White Lantern Barry Allen last week at New York Comic-Con 2010: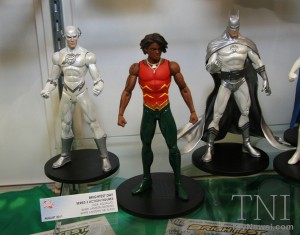 Photo courtesy of Toynewsi.com
My first impression of it was "Wally West!" and then I quickly remembered that Wally had nothing to do with Brightest Day and that we haven't even really seen him (except for the one-off appearances in Magog and Secret Origins) since Flash Rebirth ended. My reaction obviously had to do with the belt and the way it's been designed.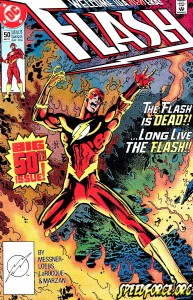 In the comics ever since The Flash v2 #50, Wally's costume has pretty much been depicted with the center of his belt coming to a "V" in the middle as opposed to being straight across like Barry's. Sure the change was inspired by the early 90s Flash TV show which featured a version of Barry Allen, but the actual character was a crazy amalgamation of Barry Allen and Wally West. And while the show only lasted one season, the changes to Wally's costume in the comic would last throughout most of his career only changing recently. It was a pretty distinctive and definitive part of his suit, which is why I find it kind of odd that they would use the center "V" belt for Barry. Even when they designed Barry's Blue Lantern Corps outfit they gave him the straight across belt: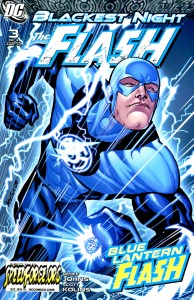 I guess there are a few other distinguishing traits that we can identify our Flashes by, like the cowl (or lack thereof), or the winged boots (which they temporarily gave to Wally back in 2006 when he returned) but it was just so much simpler when "straight across" belt meant Barry and "V" belt meant Wally.
Nonetheless I'm excited for anything Flash-related and I can't wait until this and the Blue Lantern Barry due out next month arrive.
Unfortunately it looks like a June 2011 release date for this guy. But I'm waiting until the solicits come out before taking that as the final date.
What do you guys think of White Lantern Barry? Is the "V" belt strictly a Wally thing or does Barry have a right to look cooler too?
Thanks for reading.
Share