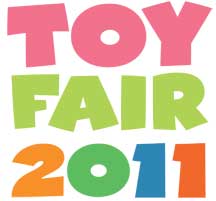 Wow, wow, wow! Some great stuff coming out of Toy Fair this year for the Flash. Mattel had quite a few new Flash related items to show off while DC Direct really had nothing new that we hadn't already seen. The following pics below are courtesy of Toynewsi.com.
I was most looking forward to the Young Justice and JLU news because of the rumored upcoming releases and they didn't disappoint. Well almost didn't but we will get to that later.
Some Young Justice pictures: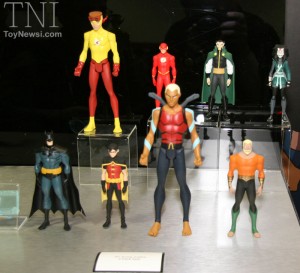 We are going to be seeing these figures in a number of different scales; some in scale with DC Universe Classics and some in scale with Justice League Unlimited. A Flash and Kid Flash two pack set will be available as well. I plan on getting them all of course. I'm loving the show so far and I can't wait to see what else they have in store for us.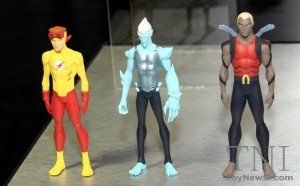 I can't tell if these are action figures, figurines or just some wonky prototypes, but I'm really liking the details on them.
Now for some JLU love! We didn't get another glimpse of Jay but we did get some Heatwave: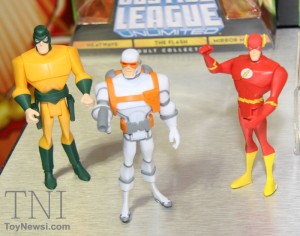 Yep, Heatwave is finally official!  He is going to come packed in with the Barry Allen version of The Flash and the previously released, Mirror Master.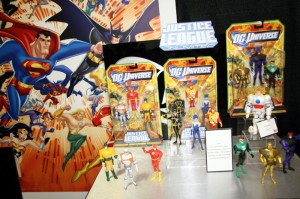 Goldface! Yeah he doesn't really have a role in The Flash anymore but he did for a good while so that makes him fair game!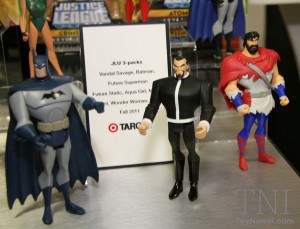 And a figure that JLU fans have long been waiting for, Vandal Savage. Anyone who knows their Flash knows that Jay, Barry and Wally have all tangled with Vandal in the past, with Vandal being an arch-nemesis for Wally at one point early in his career as The Flash. Now for the bad news; the three packs featuring Heatwave and Goldface are only going to be available through various conventions throughout the year as exclusives. So we are not going to be able to purchase these at retail. Only if you go to one of the cons or deal with evilBay and the scalpers will you be able to get one. If there are any left over they will be releasing the remaining packs on Mattycollector.com at the end of the year, but who can wait that long? Vandal Savage will be available at retail however. Also this will be the last year of JLU as confirmed by Mattel today, so I'm happy to see them getting in so many characters before they end it all. I just hope we can actually get the characters is all…
Now I mentioned that I was really excited about JLU and Young Justice but only a little for Mattel because I just figured we were going to see more of the Blue Lantern Barry we saw a bit ago. I didn't expect to see not one but two Flash-related characters. The first being Captain Boomerang: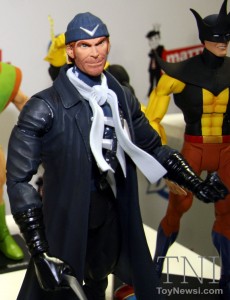 Always great to see more Rogues join the ranks of DC Universe Classics. It would have been nice to see the rumored Rogues 5 pack but beggars can't be choosy. Hopefully that 5 pack is in the pipeline for next year, the supposed year of The Flash. We will see.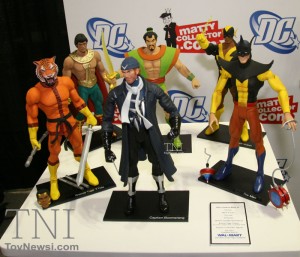 Next is the Crime Syndicate of America's resident speedster and Flash counterpart, Johnny Quick. Another great looking piece: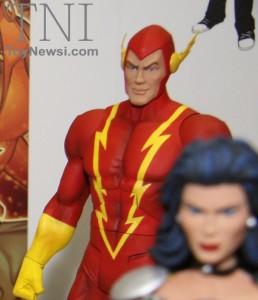 I personally would have preferred an updated version of Johnny Quick, but since Barry is back in the League it makes sense for it to be Barry's counterpart as opposed to Wally's:

In any case the sculpts look absolutely fantastic on both of these guys and I can't wait till I have them in my hands. Captain Boomerang will be a part of Wave 18 and Johnny Quick is actually going to be available in a 5 pack with the rest of the CSA (Owlman, Super Woman, Power Ring, and Ultraman).
Last but not least we have Mezco's Mez-Itz releases of The Flash and Captain Cold: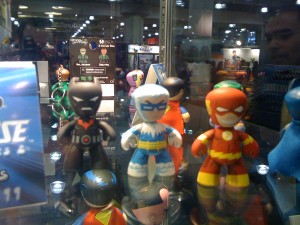 Not rocking my socks off or anything but I will definitely still be picking them up. Too cute really to pass up and I love having so many different versions of The Flash on my shelf.
Alright I believe that is it from Toy Fair 2011. If I missed anything, please don't hesitate to let me know.
Happy Valentine's Day and Keep it Flashy,
Share