With all the April Fool's Hoopla on Speed Force and Fastest Fan Alive, I managed to miss this very important and awesome announcement from Matty on Facebook:
JLU Fans,

After much struggle, I was able to convince management to put two of the remaining eight JLU 3-packs up on MattyCollector.com in the fall. This will be a big test to see if it's a viable option for selling figures this way. If we're successful, it opens the door to the remaining six packs. If not, we may be out of options.

Here's the deal… there will be no changes to the packs from the original 3-pack configuration because that would require additional development. We know some of these packs are more "retail friendly" instead of just for collectors (like the inclusion of Superman and Aquaman with fan-demanded Toy Man) but honestly, it is what it is and we can't change things at this point.

The two packs sold on MattyCollector.com in September will be the Golden Age pack with Hawkman / Green Lantern / Flash and the Space Pack With Starman / Animal Man / Adam Strange. These packs were chosen because they were the farthest along in development, plain and simple.

I'm super stoked to reveal the 3-packs over the weekend at WonderCon so check Facebook to see when I've posted pictures of them. And if you're in the San Francisco area, be sure to stop by WonderCon to meet me and the team!

-Matty

P.S. This is definitely NOT an April's Fool's Day joke. I'd never kid about something like this.
Definitely good news. Very pleased that I won't have to be dropping 70 bucks or so on a JLU Jay Garrick "prototype" on eBay. Even happier that this is going to be sold on Mattycollector.com, so everyone has a chance at it. I just hope the website is working properly cause I have a feeling this Golden Age set is going to sell out fast. It features figures that appeal to a wide variety of fans; Flash, Green Lantern, Hawkman, JLU, JSA and even Golden Age fans are going to want a crack at it.
Action Figure Insider had some of the first legit pics up and the set looks absolutely stunning: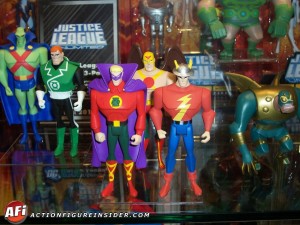 Picture Courtesy of AFi
Sculpts and details are all spot on. Only thing now is the waiting, September is sooo far away. I'm almost tempted to bid on one of those Jay prototypes on eBay. Almost. One thing I'm learning is that patience goes a long way for certain collectibles as far as getting the best price. Only thing is you could miss out on an item entirely by waiting for the cheaper deal when dealing with limited items like the Con-exclusive White Lantern Flash. Only 1000 were made, making it extremely rare, and once they are gone, they are gone. The only chance is the after market and then expect to pay even more the longer you wait.
Anyone throwing their hat in for the JLU Golden Age Set?
Share