On one hand, I found Flash #11 — chapter 3 of "The Road to Flashpoint" — to be a lot more engaging than the previous issue. On the other, it highlights some problems with the series.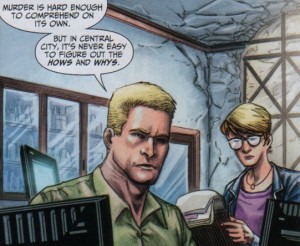 I was disappointed to see that Francis Manapul didn't draw this issue, though seeing Scott Kolins' name was a relief. That said, while I normally like Kolins' art on The Flash, it actually looks rushed, especially on the early pages. I have to wonder how much time DC gave him to draw the issue.
The pacing, however, is much better than the previous two issues. After an issue-long teaser and another issue that was 50% exposition, we actually get into the meat of the story here — a story very much about Barry Allen, the man who works as a police scientist, not the Flash who happens to be Barry Allen (which may be part of why I liked it better than #10).
It was nice to see the story actually address some of the problems with Barry's post-Rebirth isolation, though I get the impression that this was intended to develop over more story arcs. As with the artist change, I can't help but wonder what we might have seen if they'd been able to keep this book on time. Monthly from April 2010 through May 2011 would only have included two more issues, but the two Rogue Profiles wouldn't have been added. Under those circumstances, Johns could have fit another 4-issue story between "Dastardly Death…" and "Road to Flashpoint."
Geoff Johns does a good job of keeping Hot Pursuit's motivation and methods ambiguous throughout the issue, keeping it unclear whether he's causing or tracking the murders. The super-heroics kick into gear at the very end, with not one but two cliffhangers to be resolved in next month's series finale…though with a title like "The Road to Flashpoint," it seems pretty clear that it'll wrap with some sort of transition. I expect the "last issue" to end in one of two ways: Either it will feature a teaser with Barry in the altered reality of Flashpoint, or it will end with a fade to white like all of DC's "Zero Hour" tie-ins back in 1994.
So, let's move on to some talk including SPOILERS…
.
.
.
.
.
The intervention sequence is the payoff for all the little things that haven't been quite right about Barry and his relationships with his extended family since he came back. I found myself really wanting to see what we've been missing with Bart that's brought him to the point that he doesn't even want to deal with his grandfather anymore. Bart's usually the picture of happy-go-lucky, but when he gets depressed, he gets really depressed. That said, I would have liked to see Jay and Wally do something other than gush about how great Barry is.
So, Hot Pursuit believes Bart's presence to be the source of the Flashpoint time anomaly. Either he's not as meticulous in his research as he claims, or he's just feeling way too rushed to realize that Bart's been in this time period for years. My guess: Whatever Hot Pursuit does to send Bart back ends up creating an anomaly that the Reverse Flash can use.
Speaking of the Reverse-Flash…Geoff Johns is really making a habit of bringing in the Reverse Flash in the second half of a story as a surprise villain. "Rogue War," "Flash: Rebirth," and now "The Road to Flashpoint." In this case the manner of his return made very little sense as well (He transformed himself into a child so that he could develop his powers? Huh?) — though I'm sure we'll get another couple of pages of exposition next month.
I'm not sure what I think of the implied extra-personal backstory between Patty and Barry, even if (as is most likely) it was simply an attraction that never went anywhere. One one hand, it does add more layers to the character relationship, and if they keep her around, she'd be a more appealing pseudo-rival for Iris than Barry's childhood sweetheart, Daphne Dean. And it makes a little more sense in a world where they were colleagues working side by side for many years, rather than a scientist and a lab assistant working together for a year or two as they were during the Bronze Age. But something I can't quite put my finger on strikes me as unnecessary…
…and I can't shake the feeling that this backstory has been added solely so Zoom can kill someone important to Barry without killing off a member of the current cast. It's always a cheap shot to bring back a long-disused character just to kill them, but it's happened with three Flash villains (Savitar, Christina and the Black Flash in Flash: Rebirth) and a trio of supporting characters (the Three Dimwits in Justice League: Cry for Justice) in just the last two years.
One last thing: The return of the letters column. It's nice to have a permanent record of at least some of the fan response. I've seen message boards lose or purge older posts, I've seen blogs lose their old posts in database crashes, and websites just shut down all the time…but a letters column lasts as long as your copy of the book does. (It's also more interesting than tossing in the same editorial article that's in every other DC book the same week.) Even so, it still feels unnecessary. I had to remind myself to read it…which was fortunate, because I saw the first confirmation that Abra Kadabra will appear in Flashpoint.
Share