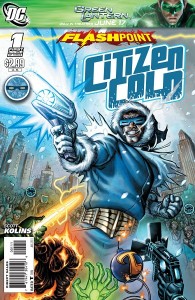 Citizen Cold #1 is the first in a three-issue Flashpoint series, written and drawn by longtime Flash artist Scott Kolins. I'm happy to report that it doesn't disappoint, finding it a well-written and fun story and looking forward to the future issues.
Spoilers behind the cut…
Citizen Cold is what passes for a hero in Central City, although given the dark hints we've seen in other parts of the Flashpoint world, his harsh methods don't seem particularly unusual. He also drinks and womanizes too much, which is perfectly in line with his regular-universe behaviour. In fact, his behaviour is fairly similar between the two universes, suggesting that whatever Professor Zoom did to the timeline, it didn't affect Cold too much. Since he still has the abusive father here, it strongly suggests that his terrible upbringing affected him a lot more in both universes than the presence of the Flash or other Rogues.
Things played out similarly for Cold in the Flashpoint universe as in the regular one, only here we get a more explicit reminder of one of the crueler things he's done: leaving his sister Lisa at home with their abusive father. This was brought up during Geoff Johns' run on The Flash, although in this reality Lisa never escaped by becoming a professional skater or villain, and eventually kills her father out of desperation. It seems especially callous on Cold's part because here he's rich and famous and could have easily rescued her, and really emphasizes what a selfish jerk he is. I'd like to hear his rationalization (if any) for it in a future issue.
While we don't see much of the other Rogues, they're a lot of fun. Axel is hilariously obnoxious and irritates everyone around him, and I'll never be able to stop chuckling at Weather Wizard's goatee. But I hope we find out hints of the life choices which led to them becoming who they are; for instance, since Weather Wizard never killed his brother, why did he still become the Weather Wizard? Was James Jesse around and Axel then took the mantle from him, or did Axel become the Trickster (ahem, 'Trixter') all on his own? The same question applies to Evan McCulloch and his predecessor. It does seem a bit too coincidental that many of the current regular-universe Rogues are also around and working together in the Flashpoint world, which is arguably a plot flaw but perhaps future issues will tell. At least including non-Rogues like Fallout helps keep the lineups from being too similar.
One point of interest is that we learn the name of Cold's father for the first time: Lawrence (I'll assume it's the same between the Flashpoint and regular universe). This is helpful, because for lack of anything else I've been calling him 'Daddy Snart' or 'Old Man Snart' for years!
The art is what we usually expect from Kolins; slightly cartoony but very detailed and distinct. He draws the Rogues so often that they look very familiar to Flash fans, and I like that. The colours are slightly dark and muddy to my eye, however, and could really stand to be lightened. In some panels it's difficult to figure out what's going on. And as an aside, there's a lettering oddity in the first few pages of the book: emphasized words are underlined rather than bolded, and I don't think I've seen that anywhere else. It's jarring because it's unusual, but fortunately only a few pages are like that.
The issue is definitely worth picking up, and one of the more enjoyable Flashverse stories in quite a while (it's a bit of a shame we had to go into an alternate universe to get it). Hopefully the next two issues will be as good as this one.
Share