We continue our series reacting to DC's September relaunch. Previously we've covered the Justice League, Green Lantern, Batman and Dark titles. Now we look at the Teen Titans, Legion and other young heroes.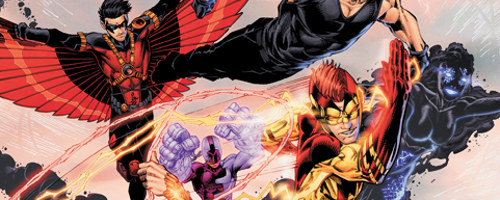 Legion of Super-Heroes · Legion Lost · Teen Titans · Static Shock · Hawk & Dove
Legion of Superheroes and Legion Lost
Greg: The Legion stuff should be interesting, but to me a lot of the charm was the multiple versions and the implications. I wonder how much of that will make it over, if at all.
Devin: There have been a couple times where I've thought about trying out Legion of Superheroes; back when I first read about XS in The Flash, and when I read about the Tornado Twins being one of the Legion's inspirations. Unfortunately the amount of characters, reboots and continuity fixes is extremely overwhelming. With them also rarely featuring speedsters on their team this left me with even less reason to try and jump on.
Fabian Nicieza was my first favorite comic book writer. I was a huge fan of his work on the New Warriors in the 90s, and I also was a fan of his Nova and Thunderbolts stuff too. This is a situation where the writer might be enough to get me to try out a new series.
Kelson: The only version of the Legion I ever got into was the "Five Years Later" Giffen/Biernbaum run. It's apparently disliked so much that it didn't get more than a cameo in Legion of Three Worlds. It sounds like DC isn't tweaking the current version much other than splitting off the "lost" team, which I guess speaks to confidence in the concept.
Lia: I've never gotten into the Legion, and generally have little interest in it. However, I like Fabian Nicieza's work, and the apparent twist of it being set in the present has potential. More Legion, but presumably set in the future. Not really my thing.
Teen Titans
Devin: The more I look at this Kid Flash redesign the more I like it. I am definitely on board with this series. I'm not that huge of a fan of the rest of the designs but I've always had a soft spot for teen books and I've been itching to see Teen Titans return to glory for years now. I think Scott Lobdell is definitely the right person for the job especially given his experience with Generation X.
Lia: These designs are mostly horrible, and I've never been fond of Brett Booth's art. Couple that with Lobdell as the writer and this is a definite pass for me. So many of these 'teen' books seem like the `90s all over again.
Kelson: I'm not sure I can really judge a Titans book fairly at this point. The Wolfman/Perez Titans are what got me into comics, and the DCU in particular, and led me to all kinds of related characters, but I've been burned enough times by Titans relaunches that I've decided it's best to stay away.
That said: I'm glad Bart's in the book, and I'm glad they haven't reverted Wally to Kid Flash. I think Kid Flash's costume is too busy, though, and it seems a bit too "kewl" for the fun-loving Bart I know. Actually, most of the costumes give me the impression of trying too hard to reach a demographic (and one that I'm not in, at that).
Greg: The Kid Flash costume is pretty cool. Keep in mind, even Superman's digs are being tweaked. Still, the original was the coolest costume, hands down.
Hawk and Dove
Greg: I like that the Hawk & Dove announcement explains what exactly they represent, that is sometimes lost or unmentioned in the books themselves.
Lia: Mah gawd. I really like this lineup of Hawk and Dove, but with Rob Liefeld? Hell no. Please find another artist.
Kelson: According to Dan Didio, they convinced Rob Liefeld to come in because so many fans had fond memories of his run on the book. I have fond memories of the book, but they're not because of the art…and after his two-issue story on Teen Titans a few years back, I don't want to read a whole series with him on the characters.
Devin: Rob Liefeld? No thanks.
Static Shock
Devin: I never thought I would be seeing Static Shock in an ongoing series again. Mr. McDuffie must be smiling from heaven. Now if only we can get an actual action figure of Static as a teenager I think we can finally be content. I hated how they tried to just throw Static onto the Teen Titans it just doesn't work that way. I personally see Static kind of becoming DC's version of Spider-Man. Young, relatable, in demand, works most solo and a wisecracker extraordinaire. I can't wait for this.
Kelson: I've never read the book, but I'm glad to see Milestone's most successful character still around.
Lia: Unfortunately I don't know anything about these creators or the character, so can't offer an opinion on it. It's nice to see Dwayne McDuffie's legacy continue, however.
Part 1: Justice League
Part 2: Green Lanterns
Part 3: Batman
Part 4: The Dark Side
Next up: The Edge
Share