The Fwoosh has the first look at Johnny Quick, The Crime Syndicate of Amerika's own evil speedster who exists as a alternate Earth counterpart to our own Barry Allen, The Flash. There was also a version of Johnny that was an alternate and twisted version of Wally West but this design is clearly based on the Silver Age version of the sinister speedster. The figure will be released in a Walmart Exclusive Five pack that also includes the other four members of the CSA from various time periods; Johnny and Power Ring are from the Silver Age, Ultraman and Owlman are based on more modern renditions of the characters and Super Woman has a nice mix of everything. While I initially thought the different styles and looks wouldn't mesh as well together I was mistaken: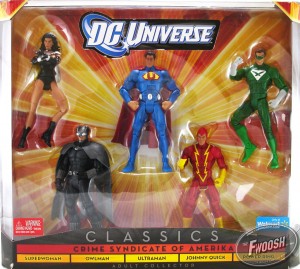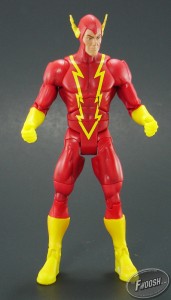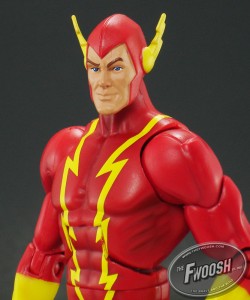 We've known about this set for a little while now, but we are finally getting our first real look at the final figures out of the package and I'm now looking forward to this figure a lot more than I was previously. Johnny isn't really the most spectacular looking figure (the costume is fairly basic) but as The Fwoosh reviewer pointed out it is the little details that the Four Horsemen (the art team responsible for all of the DC Universe Classics designs and releases) add that make the piece really come together. Of course I will have to wait until I have him in hand myself but this definitely has me on board with the release. Not sure yet though if I will be trying to find this guy loose or just buying the whole pack. I rarely get out to Wal-Mart (not that I really like shopping there anyway) but I'm hoping that if I do I have better luck than I've had in the past with these exclusives.
This version of Johnny Quick (Waid-era Flash fans will remember Johnny Chambers, the first Johnny Quick and father to Jesse Chambers aka Jesse Quick and Liberty Belle) has been realized once before as a full size action figure by DC Direct back in 2002. The Wally West version of Quick was released as a Heroclix in 2007 and yet another alternate version of the character appeared in the 2010 Warner Bros direct to DVD/Blu-Ray release, Justice League: Crisis on Two Earths.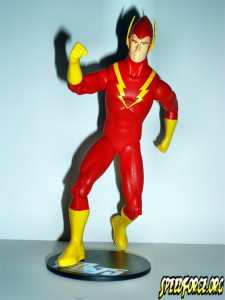 DC Direct's Crime Syndicate of America Johnny Quick from 2002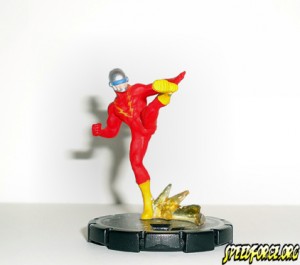 Wizkids Johnny Quick Heroclix from 2007
Great stuff overall and I'm very pleased to be adding another Flash-related character to my collection. No matter my feelings about the current direction of the DCU I think I will always collect Flash stuff, I just don't know if I will be on board with DC and the actual Flash series much longer. I'm just waiting to see when these new designs will start affecting DC Comics merchandise; honestly I'm just hoping that we get Wally West and Jay Garrick before they cease to exist in the main DC Universe.
Who plans on picking up Johnny Quick and/or the rest of the Crime Syndicate of Amerika?
Thanks for reading,
Share