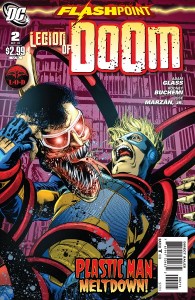 Well, Flashpoint: Legion of Doom #2 was certainly something. If you like prison break stories, you'll probably enjoy it, because it doesn't disappoint in that respect. However if you dislike blood and violence in your comics, you won't be thrilled with this one at all. More after the cut.
To give an idea of what this issue is like, I'll list some of the gruesome acts in it, not even counting minor incidents like Heat Wave getting stabbed or shoved face-first into a wall. Heat Wave kills Zsasz by lighting his head on fire, bites off Animal Man's nose and then bloodily curbstomps him, pops the Atom's head like a grape (shown in graphic fashion), and then burns at least six guards to death before plotting to crash the airborne prison into downtown Detroit. This is not a comic for the weak of heart or faint of stomach, and in fact I saw quite a few people at 4chan express displeasure with the violence in this issue. Let's say that again: people at 4chan thought the blood and violence here were excessive. No one disputes that prisons are harsh and nasty places, but I'm not sure I want to read about stuff like this in DC comics. I was actually okay with the vicious fight and nose-biting in the scene with Animal Man, but then really taken aback when Mick curbstomped him (complete with gushing blood and SPLATT sound effect).
So I'm not going to lie: I didn't enjoy this issue because of the relentless violence. There are some positive aspects; the story is certainly fast-paced and exciting and evil Plastic Man is fun, probably the best character in the book. He clearly has a bond with Heat Wave even if they're kind of jerks to each other occasionally, and I'd like to know more about their history. I'd also like to know what made Mick such a psychopath in the Flashpoint world. But the graphic killings keep coming in the story, and the reader can't avoid it even if he or she wants to. It really deserves a more mature rating, and is not recommended unless you enjoy this type of gore.
Flashpoint: Legion of Doom #2
Story by Adam Glass
Art by Rodney Buchemi
Share