Salutations Speed Readers,
For those that haven't heard yet there were some pics shown off at New York Comic Con this past weekend of the "New 52" action figures coming up from DC Direct next year. As expected there were a few pictures shown of the new Flash action figure; TNI and Toy Ark have the goods: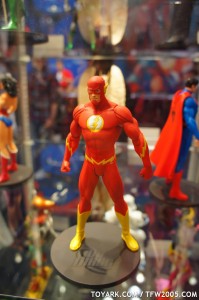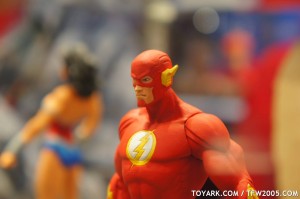 As strongly as I feel about the New DCU I have to say these figures are shaping up to look great. Jim Lee's designs look a million times better in action figure form than they have so far in the comic universe (not a sleight against Manapul because of what I've seen the man is rocking the Flash; I'm even thinking about picking up the trade). The details in my opinion don't stand out as being so busy in this form but that may have to do with the absence of the glowing Tron-like lines on the figure.
I really can't wait until Mattel lets us see the prototypes of the figures that you know are in the works and what design differences the Four Horsemen bring to the table. I've been a DC Direct fan for years and overall I prefer DC Direct's sculpts and articulation but over the last few releases from Mattel I've been starting to really dig the Four Horseman's work. I also can't wait until we see the last few Flash-related releases from Mattel before the rebranding and reshuffling of their line: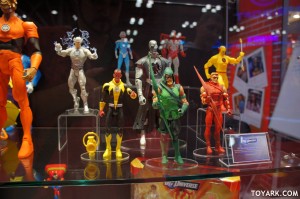 Sure they are both repaints and yeah I really don't see the point of releasing a Flash figure of a costume we have only seen in one panel yet again but I'm really digging that Zoom.  Nice that they decided to include his lightning rod from Flash: Rebirth. Yeah we've only seen that a couple of times too but it is nice to get an accessory once in a while with a Flash figure. Now all we need is a Cosmic Treadmill.
What do you all think of the updated pictures of the new 52 Flash?
As usual thanks for reading and a special "Thank You" to Josh Boman.
Take it easy everyone.
Share