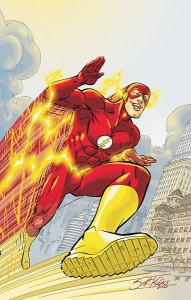 DC's full January solicitations include the official announcement of The Flash Omnibus by Geoff Johns Vol. 2…and its contents. It clocks in at a massive 648 pages, covering two years' worth of the Wally West Flash series, including Rogues, Crossfire, Run Riot and Blitz. Volume One was considerably shorter, covering Wonderland and Blood Will Run, including Iron Heights and The Flash Secret Files #3.
I believe this is the first time the DC 1st: Flash/Superman one-shot has been collected.
Personally, I think this is the best of Geoff Johns' run on the book. Everything built toward first Crossfire and then Blitz as he built up a fantastic supporting cast, revitalized the Rogues, and introduced a bunch of new villains. (IMO it lost direction after Ignition, but sales went up from #200 to 225, so the overall audience seems to have liked the second half of Johns' run better.)
My guess as to the future of this series: DC will release one more volume from the Wally West series covering #201-225 (Ignition through Rogue War). Then Volume 4 will consist of Johns' Barry Allen run: Flash: Rebirth, Blackest Night: The Flash, Flash vol.3 and Flashpoint.
THE FLASH BY GEOFF JOHNS OMNIBUS VOL. 2 HC
Written by GEOFF JOHNS
Art by SCOTT KOLINS, DOUG HAZLEWOOD, RICK BURCHETT, PHIL WINSLADE, DAN PANOSIAN and others
Cover by SCOTT KOLINS
On sale MARCH 28 • 648 pg, FC, $75.00 US
It's the second hardcover volume collecting all the issues of THE FLASH written by comics superstar Geoff Johns! In this massive collection featuring issues #177-200 and DC FIRST: FLASH/SUPERMAN #1, an old friend of Wally West becomes the portal to another universe and Gorilla Grodd goes wild in Keystone City! Plus, don't miss the Fastest Man Alive's clashes with members of his infamous rogues gallery, including Captain Cold, The Trickster, the Pied Piper and more!
Share