The New York Comic Con has come to a close, and we've got all your Flash-related announcements!  Here we go…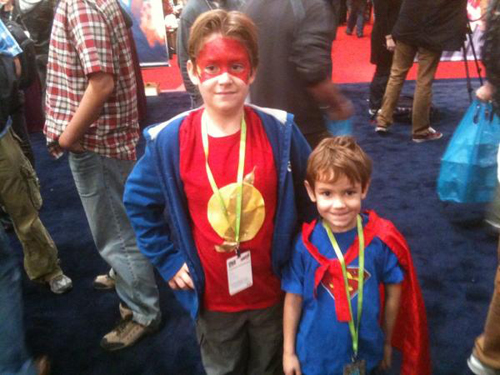 This young fan's favorite Flash?  The Flash!  Follow the jump for more…
Flash creative team Francis Manapul and Brian Buccellato were both guests at the All Access: Justice League panel.  They talked a little about the design aspect of the book, including the follow from Newsarama's coverage:
Manapul said he and Buccellato were trying to create a more dynamic visual presentation of the Flash. "I think one of the reasons our pages have so much energy about them is that there are only two of us working on them, from idea to final product," Buccellato said. "It's all part of a single unit that helps bring about the book. Being able to see it through from beginning to end has allowed us to do a lot of innovative things."
The two also talked more about Mob Rule, the title's first new villain [edit: spoiler warning; highlight to read]:
Manapul said it will be revealed that the villain, Manuel, is a government agent. Buccellato said that in the images shown, Flash is running around the world looking for answers about the villain, from Afghanistan to China to Somalia.
Flash appears in this exclusive Rolling Stone preview for Justice League #2, and in comments made at the same Justice League panel by that title's Geoff Johns and Jim Lee:
Johns said Green Lantern is fighting Superman in Justice League #2, and Hal calls Barry Allen to say, "Dude, get me out of this!" The crowd cheered when Jim Lee's drawing of The Flash was shown.

"I just like the fact that Green Lantern calls The Flash on his cell phone," Lee said.
Captain Atom scribe J.T. Krul, at the same panel, said he consulted with the Flash creative team when working on his upcoming portrayal of Barry Allen in his title's issue #3.  Buccellato also posted an image on Twitter from a DC party, featuring DC-themed craft beer.
In animation news, we knew Michael Rosenbaum would voice Flash in the upcoming animated feature Justice League: Doom, and recent reports have confirmed that it will be the Barry Allen Flash.  According to Bruce Timm, veteran animation legend, Rosenbaum faced some challenges with the change in identity (via CBR):
"The only person who had any trouble at all was Michael," said Timm, "but only because he was used to playing the Wally West version of the Flash, this is actually the Barry Allen version of the Flash. He would do a line and say, 'Oh, no, that sounds too much like Wally. I'm going to make him sound more like a grown-up.'"
…and in Wally West news, a question about the missing speedster went unanswered at the Justice League panel, while Teen Titans editor Bobbi Chase responded to a question regarding West with a one-word answer: "Who?"
Update: And don't miss our Flash action figure report.
Share