In an interview posted on Friday, Flash co-writers Francis Manapul and Brian Buccellato talked to comic book resources about the arc of their speedster saga.  Going into this week's first New 52 Grodd story, and upcoming reintroductions of Weather Wizard, Heat Wave and (Golden) Glider, the Flash team delved into the existing relationship between the Rogues and the road to September's Flash Annual.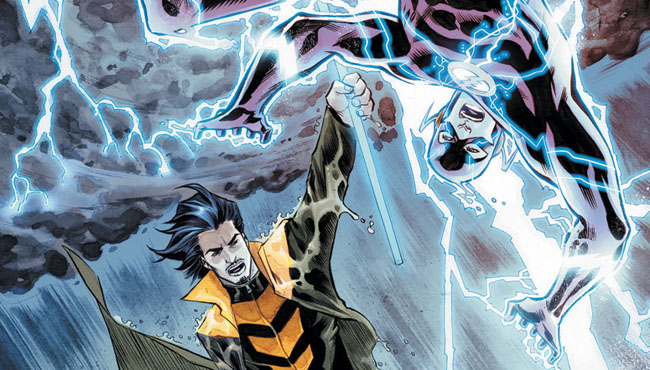 Manapul kicks things off by explaining the crescendo of the series thus far:
Francis Manapul: I think there's a theme that the book is really about overwhelming the Flash. In the first arc, we created this villain who could really be in multiple places at once, so in that sense, the Flash is overwhelmed physically and also overwhelmed emotionally because of the fact that he's [fighting] an old friend, a guy that he grew up with. It's kind of an overwhelming time for Barry Allen, having discovered that the weight of the world is on his shoulders. On top of that, the Rogues are slowly starting to get back together; we're slowly showing what kind of a threat they would be to Barry Allen.
For highlights, including choices made during the redesign of the Rogues and the team's answer to the Wally West question, follow the jump!
On the change of pace from the "Mob Rule" story:
Manapul: The first arc we really felt it was really rich in subtext, whereas with the current Rogues [story], we're taking more of a direct approach. I'll admit it — we read how people react to the issues, and we noticed there was a lot of stuff in the first arc that kind of flew over a lot of people's heads. So with the Rogues, we're taking a direct approach on how we're handling them emotionally and how they reflect Barry Allen. And also, having done a five-issue arc, we thought it was necessary for us to create tighter, shorter stories, to help move things along! [Laughs]
On the much-discussed Rogue redesigns:
Manapul: Captain Cold was really the one that took the most back and forth in terms of where we wanted him to be. The rest of the Rogues were really quite easy. A lot of it stemmed from trying to keep things from the past but also making the way that they look part of the story. They look like they do for certain reasons. Of course, with characters like Heat Wave, he looks drastically different. A lot of those changes to their physical attributes stem from the story, so as we get further along, that they look is going to make a lot more sense.

… I don't feel like we're reinventing them, except for Turbine and Gorilla Grodd. A lot of readers say they want change, but really, they don't. They want the characters to stay the same, so the way the Rogues have been written in the past is always writing them exactly the same. Emotionally, they didn't progress, but they changed everything around them so they would have this illusion of change. The opportunity Brian and I have with the New 52 is, "Where did the last story of the Rogues leave off? Lets take that story and move forward emotionally in a way we wouldn't have been able to pre-52."
On the relationship between Captain Cold and Heat Wave, as it stands now:
Manapul: I think issue #11 has one of my favorite scenes of interactions between the Flash and Captain Cold — spoilers! — and Heat Wave. It's a lot of fun! The issue is going to feel a little like a modern Western. The joke is Barry Allen walks into a bar — and Captain Cold and Heat Wave also walk into a bar. There's going to be some great interaction between Barry Allen and Leonard Snart, and it'll be really interesting to see Heat Wave interact with Captain Cold. With regard to the singular event that Lisa Snart mentioned, no one has been more negatively affected by it than Heat Wave. That's where his emotion lies and why he very much would like to get rid of Captain Cold.
On the theme of the Law of Congestion, a driving force from the first issue of the series:
Buccellato: It's something that's really reflective — if you go back to issue #1, we talk about it, and it wasn't just some passing conversation. There's a reason why we chose to have Dr. Elias talk about that specific thing. So if people would go back and look upon that issue and then reflect on the issues that have come out afterwards, they can, hopefully, see that there's more at play than what's on the page.

Manapul: I think the stories we've been putting out have been a continuous study of that theory. In a way, what we did in issue #2 by visually overwhelming — we weren't just overwhelming Barry Allen, we were overwhelming the readers. If you're following the concept of the Law of Congestion, right now, a lot of highways are being built. The Law of Congestion says, in order to fix it, destroy all of them.
On Wally West:
Manapul: The thing is, it's coming from a pure fan perspective. I grew up with Wally West, but it's one those things that, within the context of the story and the world we're building, he doesn't really fit. Really, just focusing on Barry Allen has allowed us to do a more streamlined story and give a very good character study on Barry. Especially since, when you think about it, a lot of people of this generation don't know Barry Allen that well. I sort of feel it really ties everything together. Here are Brian and I on this journey, writing our first ongoing comic book, and we're reintroducing Barry Allen and his journey in terms of self-discovery — and it's the same things the readers are going through. They're on a journey of discovering who Barry Allen is. Introducing Wally West might murky up the water. It's not our decision, but I think it's better that we just focus on Barry Allen. At the end of the day, our mission statement is to make Barry Allen as cool as possible. So we're putting all our effort into doing that.
For much more, head over to CBR for the full interview!
Share