Hey Speed Readers,
Not a day after posting and praising Neca/Wizkid's latest New 52 Justice League Fast Forces and Justice League Flash releases on my own site does Wizkids announce that they will be releasing Wally West and Jay Garrick in the upcoming DC 10th Anniversary set.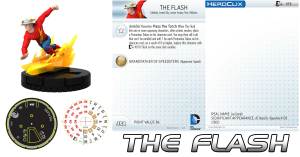 First we take a look at the original speedster, Jay Garrick known in this set as The Flash #018. There have been two versions of Jay released previously representing the Golden and Silver Age: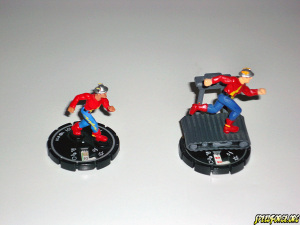 This will be the first Modern Age iteration of Jay released and it looks like it was worth the wait. We saw a similar lightning bolt base with Wizkid's new 52 Flash releases and it looks just as good here if not better. I have to say that the cosmic treadmill used as a base for the Silver Age Jay probably beats out this one. However, the overall sculpt on the new one looks to be better than both previous efforts, especially with the awesome running pose they have him in. He looks as if he is slicing the air in two as he speeds through it. Of course the real test will be when we see him in person. Still great stuff.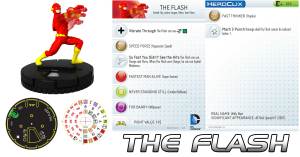 Excuse me but OH HECK YEAH! Why is Wizkids the only company to put out this version of Wally? I'm sure DC and Warner Bros. have a huge say in who and what gets made by the companies that hold their license but wow. I'm just happy HeroClix is on the ball. In fact HeroClix is the only licensed company to give us just about every member of the Rogues (sans Golden Golder) and every member of the *ahem* Speed Force in one iteration or another. In fact there have been by my count five solo Wally releases and one where he was teamed with Barry: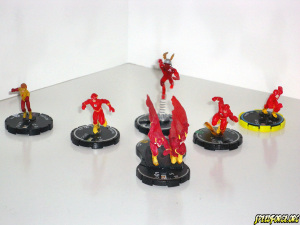 That is a feat unto itself. Wally is known in this set as The Flash #010 and he is doing one of my all time favorite offensive speed tricks, the arm-spun whirlwind. Man, these almost bring a tear to my eye. That is how excellent they look. Just wow. Consider my collecting passion renewed at least for a bit. I will definitely be picking these guys up.
You can see the original preview and some in-depth descriptions of the 'Clix and their abilities, HERE.
These guys are finally expected to hit stores September 12, 2012. Who plans on picking up a brick or ordering them online? Please let us know in the comments below.
And as always thanks for reading,
Share