Hey Speed Readers,
So for my birthday a friend and co-worker of mine, Libby 'Geuna' Devins painted an excellent piece of yours truly in full Flash regalia.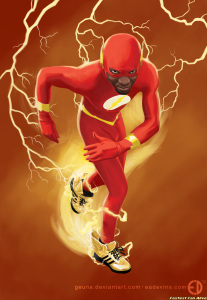 I moonlight as the Scarlet Speedster from time to time. I haven't worn the suit out in a few months now, but I will usually bust it out for a special event or if the mood strikes me. I actually own three different suits, with two currently in working condition; a Barry Allen styled one, a Wally West styled one, and a Dark Flash one.

The Wally West one is my favorite and the one I've worn most often. That was actually the suit I was wearing when the photo that this picture is based on was taken. We were at a Trader Joe's Tasting (one of the events the company has so that the employees can socialize and taste the food in our Flyer) and it was a few nights after Halloween. I was still pretty jazzed about the new uniform (I modified it a bit and got some awesome winged sneakers) so I decided to surprise my co-workers with an appearance from The Flash. When everyone kind of dispersed to start eating I quickly disappeared, took off my outer clothing (I wore the suit under my clothes and packed my shoes in my messenger bag) and then reappeared much to the excitement of everyone.
Ever since I was a child it's been one of my dreams to have myself drawn in this manner. I feel like a real superhero. Easily one of my all-time favorite birthday gifts (my birthday was in April but it took her a little bit to finalize it).
Thank you so much Libby. I will cherish this forever.
You can see more of Libby's excellent work HERE. Please drop by and show her some love.
Thanks for reading,
Share