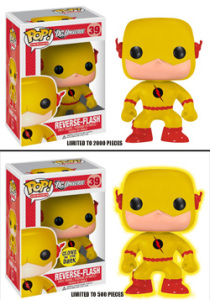 Hey Speed Readers,
Dallas Comic Con has just announced their first exclusive; a Funko Pop! Reverse Flash figurine that is limited to only 2,000 pieces along with a Glow in the Dark variant limited to 500 pieces to be released and sold at Dallas Comic Con coming up May 17 through May 19, 2013.
Now Funko is no stranger to exclusive Flash offerings; Just last year New York Comic Con in collaboration with DC Entertainment, Funko Pop!, and Fugitivetoys.com offered an exclusive Funko Pop! Black Flash Figurine. This year Dallas Comic Con has the distinction of carrying the exclusives but unfortunately there is no official option for collectors not attending the event!
The first DCC exclusive toy!  Attending fans can pre-purchase their Reverse Flash online here and pick it up at the DCC booth in the main lobby during the convention.  Reverse Flash and Glow In The Dark Reverse Flash are available as a combo, and the standard version is available individually.  VIP ticket holders will receive one of the standard paint edition in their goodie bag.

Dallas Comic Con exclusive FUNKO Reverse Flash POP! Limited to just 2000 pieces. Chose from our exclusive Reverse Flash or as a special combo version with both the POP Reverse Flash AND the ultra rare DCC exclusive POP "Glow in the Dark" paint Reverse Flash limited to just 500 pieces.  Reserve yours now to be picked up at the May 17-19 Dallas Comic Con. Finished product will have an exclusive DCC logo sticker. Product may slightly vary than pictured.

Attendees can pre-order them here. Sorry no orders unless you can attend the show this year.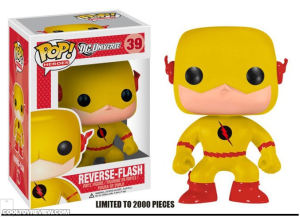 Picture courtesy of Cooltoyreview.com
So it seems like collectors who won't be able to make it there are going to have to either find a friend who is attending or hopefully find an auction on eBay that is decently priced. As it is the single standard figurine goes for $15.00 and the Combo pack featuring the standard and glow in the dark variant goes for $45.00. I could easily see both of these prices doubling for those not fortunate enough to make it out to the con. To that end if anyone has the ability to score one for me I would be doubly appreciative. 🙂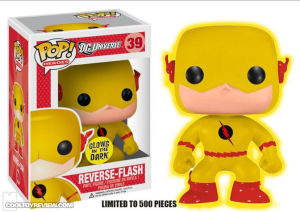 Picture Courtesy of Cooltoyreview.com
So what do you all think of the Funko Pop! Reverse-Flash Figurine? How do you feel about the lack of an online option for this exclusive? Please, let us know in the comments below.
Thanks for reading,
Share