Those who follow American college basketball's national tournament are familiar with the term "March Madness".  At The Fastest Forum Alive, one of their members known as Speedster has set up a 32-player bracket pitting Rogues old and new against each other, in a battle for Rogue supremacy!
The Fastest Forum Alive is a fan form that you may have seen mentioned on this site before, bringing together fans of every Flash from Jay to Barry to Wally to Bart.  Membership is and always will be free – but you are not required to be a member to vote.  Guests can vote in this event, and we look forward to Flash fans everywhere joining in.   Watch for the polls to start soon at the site!
Here is a sneak peek at the bracket – click on the pic for a larger version, and join us at http://thefastestforumalive.proboards.com for FLASH MARCH MADNESS!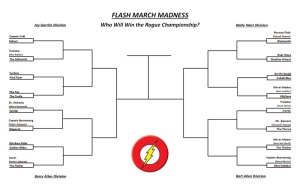 Share