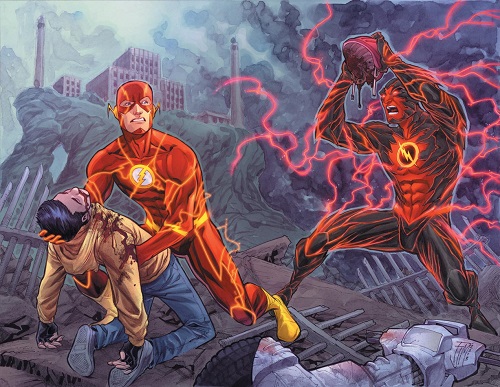 DC Comics has unveiled the Flash #19 fold-out cover at Newsarama. To no great surprise, it turns out to feature the new Reverse-Flash, who recently debuted in Flash #17.
Actually, I do find it a bit odd that the Reverse-Flash is holding a bloody bicycle helmet.
DC's April covers all feature a fold-out with a surprise twist on the right side of the image (at one point they were referred to as "WTF Certified," but that terminology has been dropped), though how many are really surprises is hard to say. The Flash is featured on the "surprise" side of Dial H #11 cover, and Kid Flash on the Vibe #3 cover. The Flash also appears on the teaser sides of Justice League Dark #19 & DC Universe Presents #19, though the full covers to those comics haven't been released yet.
Flash #19 also has a MAD-themed variant cover.
THE FLASH #19
Written by BRIAN BUCCELLATO
Art by MARCIO TAKARA
Fold-out cover by FRANCIS MANAPUL
1:25 MAD Variant cover by The Usual Gang of Idiots
On sale APRIL 24 • 32 pg, FC, $2.99 US • RATED T
What is the latest and greatest threat to The Flash and all those closest to him?
Share