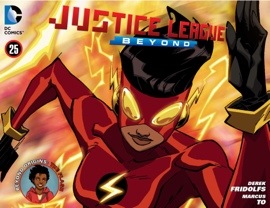 The latest installment of Justice League Beyond, Chapter 25, gives us the origin of the newest Flash, Dani Williams. This character has already shone in her previous appearances with the future Justice League, and now we finally get the full scoop on this very interesting addition to the Flash legacy.
SOME SPOILERS AHEAD!
Very quickly, this story establishes some similarities as well as some key differences to the origins of prior speedsters. Her connection to the Speed Force begins when she is very young…and those conversations with prior Flashes that we have seen in earlier chapters began when she was just a child. The mentoring she receives from Jay, Wally, and Bart truly makes this a unique version of the Flash, and it is handled exceptionally well in the story.  No, you don't see the prior Flashes…not clearly, anyway…but you hear from each throughout the story.  It adds a nice touch and ties the Flash legacy together in a way that was heartwarming to me.
Given that this is in a different version of the DCU (at least until Terry/Bats is firmly brought into New 52 continuity), the creators are able to give a somewhat different take on key parts of the Flash mythos. There is a slightly different description of the Speed Force, and an interesting take on how a Flash can run across water. The differences here also allow us to explore a universe where Barry never existed but Wally did…along with a lot of other fan favorites from past continuity.  I would direct a certain Rogues fan reading this article to check out the splash page that addresses this fact. You will be glad you did.
This story is aimed at fans of the Beyond universe, and is set for a slightly younger demographic than fans of the New 52. As long as that is taken into consideration, this is an excellent story. Derek Fridolfs writes and Marcus To illustrates this story with colors by Ian Herring. This story has everything a Flash fan could ask for in a short 99-cent chapter – an origin for a new Flash that is entertaining, with a nod to everything that has made the Flash legacy so great over the years. You can get this at ComiXology right now or wait for the print version down the road…but I'm glad I got this now. It is definitely worth the read!
Share