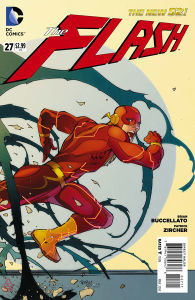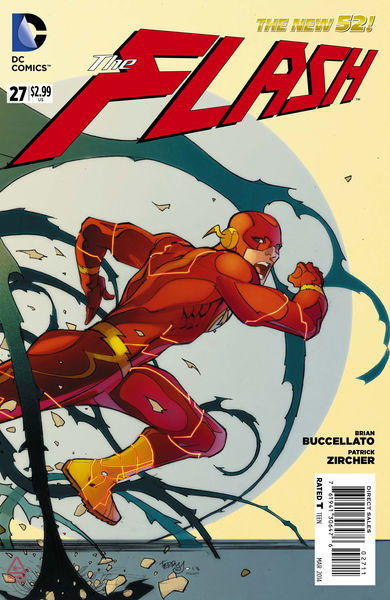 This issue of The Flash begins a three-parter in which Brian Buccellato gets to wrap up some story threads before moving over to Detective with Francis Manapul.  Looks like these are very important threads, as we start to delve into the biggest mystery of all for Barry Allen…
LIGHT SPOILERS ONLY
This story happens prior to the events in "Forever Evil", which is why we can still find Chroma (a re-imagining of Rainbow Raider), Tar Pit…and later on Girder in this story.  While foiling a robbery by Chroma and Tar Pit, Flash discovers a boneyard…one left behind by a mysterious serial killer.  At first, they blame it on the "Broome Hill Butcher" (10 points for those who get the connection of that name, and kudos to Buccellato for including that here).  But, these murders happened after the "Butcher" was jailed.  Why does Darryl Frye not want Barry to look into this?  Why does Barry's father clam up when this is mentioned?  There's a LOT more to this tale, with some interesting revelations in this issue and even more yet to come as this story moves forward.
Brian Buccellato continues to write exceptional stories for The Flash – if he and Manapul continue at this level in Detective, then we have some amazing Bat-stories in store for us.  Patrick Zircher's artwork (pencils and inks, with colors by Matt Hollingsworth) is great, with excellent expression throughout, and a great sense of drama reflected in the illustrations.
This story arc looks as though we will see some critical elements of Barry's personal history re-established for the New 52.  There are some revelations teased here that likely will be revisited before we're through, not to mention the possibility of finally solving the one cold case that has eluded Barry all this time.  If you have followed Barry at all in the New 52, this is a story arc that you need to grab.
Share