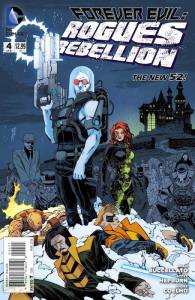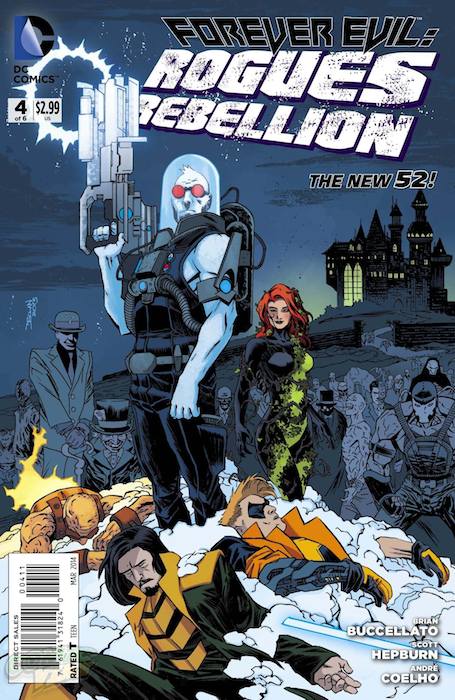 The Rogues are without their leaders, with Lisa out of action and Captain Cold nowhere to be found.  Mirror Master, Heat Wave and and Weather Wizard are left alone to stand against some of the worst villains Gotham City has to offer.   Even worse, Mirror Master's powers are not working right and Weather Wizard is out cold…can anything else go wrong?  That's where we pick up with Rogues Rebellion #4!
LIGHT SPOILERS ONLY
The best our Rogues can do at this point is hold off Freeze and Clayface while trying to revive Marco.  Thankfully, there is some help on the way, in the form of Trickster, but even he has to get past other members of the Gotham underworld to get there. In fact, more and more bad guys are coming to this fight…all hoping to capture the Rogues and deliver them to the Crime Syndicate!  What happens next is something you'll have to grab the issue to see.
Brian Buccellato continues to write an excellent storyline here, capturing the very qualities that make the Flash's Rogues Gallery so great.  I loved the interaction between Sam and Mick, and just wait till you see Axel's time to show what he is made of!  The artwork is split, with the main fight drawn by Nick Filardi and additional scenes set by Andre Coelho.  Any differences in style are okay here, as the division between scenes works.  Nick Filardi handles the colors for the full issue.
This is a great issue for anyone who ever argued with Bat-fans about which Rogues Gallery was the best.  These blue-collar crooks with a code are amazing, and this series shows exactly why.  I've said this with every review of "Rogues Rebellion"…my only complaint is that this is only a mini-series and not a full ongoing.
Share