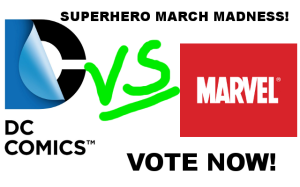 Superman vs. Thor!  Wonder Woman vs. Jean Grey! Hal Jordan vs. Tony Stark! You'll find Barry Allen AND Wally West in the brackets as well…DC vs Marvel Superhero March Madness has begun at TMStash.com!
All the battles are decided by YOU!  Voting has begun on Day 1, which ends tonight (March 17) at 11 PM Eastern Time USA.  There will be battles every day (usually 4 battles per day) through April 6th (with a couple of Sundays off to prepare podcast wrap-ups).  There are four regions, each named after a prominent writer for either DC or Marvel – two of the regions feature "in-house" battles (all DC or all Marvel), which assure that at least one character from each publisher will make the final four.  The other two regions are featuring head-to-head DC/Marvel battles from Day 1!
The champion will be revealed on a LIVE STREAMING podcast April 6th!  To find out more, here is a link to the entire bracket:
And, here is a link that will direct you to all four Day 1 matchups – vote NOW…and just be warned that there are already UPSET ALERTS going out on a couple of those face-offs!
As of this writing, Thor is actually leading Superman…and there is almost a dead heat between Batman & Power Girl, as well as between Captain Marvel & Nova!  YOUR VOTES will matter!
Share