In 2015, DC is releasing a 400-page collection of Flash stories from 75 years. Past collections have had plenty of Barry Allen and Jay Garrick stories, but have been extremely light on Wally West stories, in part because of page count. So many classic Jay Garrick and Barry Allen stories are 13-22 pages long, easy to include in a collection, but Wally's best-known stories tend to be 6-part epics that get collected in their own books.
Suppose you had the job of including as many good Wally West stories as would fit in a collection like this. Which stories would you include? Single issues, maybe two-parters, short stories in other books (anthologies, 80-page giants, etc.)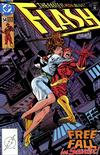 I'll start things off with the obvious "Nobody Dies" from Flash #54, in which Wally jumps out of an airplane without a parachute to rescue a flight attendant, deciding that he'll figure out how to land safely on the way down.
Share