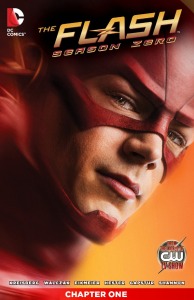 As we get ready for the much-anticipated debut of THE FLASH on television, DC brings to print their digital-first adaptation of the series in THE FLASH SEASON ZERO #1.  For those who haven't been grabbing the digital chapters, this first issue puts together digital issues #1 and #2 – with a photographic main cover and a variant cover by Francis Manapul.  This looks to be a great companion title for the series, one that is easily accessible for new fans…and a good start for this long-time Flash fan as well.
LIGHT SPOILERS ONLY
This issue picks up with The Flash in a bit of a pickle…one that has his life flashing before his eyes (or at least his origin story, a convenient way to bring in all the necessary exposition here).  This origin tale is obviously the TV version, the one you will soon see when the pilot hits the airwaves (if you haven't already seen it thanks to the internet).  The tale then moves on just one week after Barry emerges from a months-long coma, introducing us to the people in Barry's life along with some interesting villains – from an outlandish circus strongman to his shadowy boss, to a mysterious figure who plays into the issue's cliffhanger.  Along the way you'll see how Barry's fast-healing metabolism doesn't always guarantee a perfect result…and you'll get a good intro to the TV version of Barry's life.
The story is set by Andrew Kreisberg (Executive Producer of both ARROW and THE FLASH), with the script by fellow FLASH & ARROW writers Brooke Eikmeier and Katherine Walczak.  This issue does a credible job of bringing The Flash's TV persona to print (no surprise here since we have the right team on the title).  You won't catch every detail revealed in the TV series, but you do see enough to effectively introduce new fans to this iconic character.  It's a very accessible story, and maintains the hopeful and lighthearted feel that one would hope for from a Barry Allen tale.  The artwork by Phil Hester (pencils), Eric Gapstur (inks) and Kelsey Shannon (colors) gives an approximation of the look of the series without trying to be a photomanipulation.  There are a few key differences – for example, the uniform keeps the color scheme but looks more substantial than the rather loose-fitting leather/fabric costume of the TV show.  Still,  I like the artwork overall.  It is different that just about anything we've seen for a Flash-centered comic, but then again it works for this TV-to-digital-to-print version of Barry.
BOTTOM LINE: In picking up THE FLASH SEASON ZERO, what I was hoping for is what they delivered – a good intro for new fans, an accessible story that still entertains more familiar readers, and an overall fun approach to the storyline.  There are a few limitations to the tale – when you do an "intro to the character" tale it doesn't leave a lot of room for the normal pace of plot development.  But, it's a good first issue overall – and if you want to bring your new-because-of-the-TV-show-FLASH fans into the wonderful world of comics, this is a good place to start.
Share