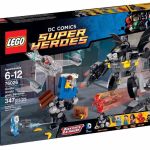 Hello everyone! Today I'm going to talk about some upcoming Flash-related minifigures, both Lego and Heroclix. See more after the jump.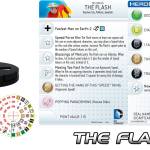 Speed Force readers might recall that there's going to be a massive Flash-related Heroclix set available in October and November, and the figurines and their stats are slowly being revealed. Here's our first look at the Jay Garrick Clix and his card, as shown on WizKids' Facebook account this week. I'm not quite sure what to make of it, because the figurine is of classic pre-reboot Jay while the card clearly references the New 52. It's certainly surprising that WizKids didn't take the opportunity to release a New 52 sculpt, but — as pure speculation — maybe there will be sculpts of both his pre-reboot and New 52 costumes in the set.
The whole set is going to be amazing for Flash fans, as there are all sorts of characters who have only been semi-officially revealed (and many images of them haven't been widely distributed). There are a ton of Flash villains in it, both pre-reboot and New 52, and I'm personally pleased to say that the Top is among them. I'm really looking forward to it.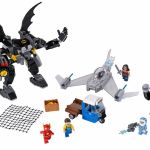 There's also a brand-new announcement from Lego: there will be another Flash-related set in 2015. The last one was a nifty boxed pack which had him paired with the Riddler, but this one will have actual Flash villains in it. Called "Gorilla Grodd Goes Bananas", it will have Grodd, Captain Cold, the Flash, Wonder Woman, and Batman. A fairly sizeable assortment! The minifigures look pretty good, and I definitely want that little Cold — I passed on the Riddler set even though I liked it, but this one is a must-have.
(On a genuinely weird note, there also appears to be a UK-only Rainbow Raider DLC for the upcoming Lego Batman 3: Beyond Gotham video game. Which leaves some fans like me in confusion, because of course I want a Raider DLC, but I'm not sure how to get it if it's only sold in the UK. Hopefully people outside Europe can buy it as well, or it also becomes available here.)
Anyone excited about these? Might you pick up one or both of them?
Share