Okay, let's see…snacks in place? Check. Laptop ready to take notes for the review? Check. Ridiculously high expectations? Check, check and check! NOW, we get to the Season One Finale of THE FLASH, episode #123, "Fast Enough". Want to know more? All I'll say is…
SPOILERS AHEAD!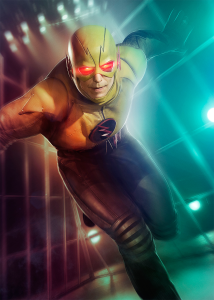 In this episode, just about every actor brought their "A" game, with a powerful script that had multiple surprises…and a cliffhanger that had me screaming "NOOOOOO!"…but only because now I cannot wait to see Season Two!
The Reverse Flash has been captured, and all is well with the world…or so it seems. There is absolutely nothing left to do, right? Except, of course, to decide whether to do the one thing we've been waiting for all season – for Barry to go back into the past and save his mother!
That's not an easy decision, though, as there are so many potential repercussions to changing the past. And, that's not the only issue in play. Wells/Thawne knows how to use Barry's speed to rupture the Space-Time Barrier, but the risk is that the wormhole this creates could turn into a singularity – a black hole that could endanger the entire world!
But, before we get to that, there is the matter of Barry Allen's original timeline to address…the one that would have happened had the Reverse Flash never gone back in time. In case some of the show gets confusing as to how the Flash could still BE the Flash after the events we will describe later on…here's a quick timeline from Eobard Thawne's perspective (If I followed the logic correctly):
Eobard Thawne is born 136 years from now.
He later becomes the Reverse Flash and fights Barry Allen in the future.
He decides to visit the past and kill young Barry, preventing the Flash from ever coming to be.
He fails, only because future-Barry saves young Barry from Thawne's wrath.
Thawne then decides to kill Nora Allen, thinking that the trauma would be so great that Barry would never recover and would never become the Flash…and believe it or not, he was right! Really? Yep! NOTE: had the story ended here there would have been NO Flash. Thawne actually prevented the Flash from coming to be…at that point. But…
BUT…Thawne was then stuck in that time period. No going home…unless he can get help. And that help can only come from the Flash, the hero he just stopped from coming into being! So…
He has to "create" his own enemy to have any chance of returning home. That's why he took over Wells' life, to build the accelerator sooner so that he could create the Flash and use his speed to go home!
Fast-forward 15 years to the accelerator accident…
And move forward once again to tonight's episode.
The point to keep in mind is that if there was NO Reverse Flash, there would still have BEEN a Barry Allen Flash…but his origin would have been changed somewhat. The only thing Thawne did was mess up the other origin story. There would have been a Flash anyway. Why am I explaining all this? You may be glad later…
Now, back to our story…
Barry has to deal with all the ramifications of changing time, including the possibility of never meeting the S.T.A.R. Labs team and the absolute likelihood that he would not move in with the Wests. He seeks counsel from Joe and from all his friends, who are of divided opinions. Henry is not conflicted…he believes that everything happened for a reason and believes that Nora would agree that Barry should not change the past. Joe at first is certain that Barry must try…until he learns of the risk from the singularity. Iris knows that this may separate her from Barry, but wants him to follow his heart. Cisco wants nothing to do with it at first, but is finally brought in to the team, to help create…
A time bubble!
Cisco confronts Wells/Thawne and even brings up his murder in the alternate timeline. Thawne apologizes…but not for killing him.  Rather, he apologizes that Cisco's memories of an alternate timeline means he was affected by the accelerator accident too! (Wonder when he will come up with his own "Vibe" code name?).
Elsewhere in the lab, Professor Stein tells Eddie Thawne that he DOES have a role to play, that in fact he is the one person who can "choose your future". Nice foreshadowing there…even though what happened later still shocked and surprised me.
As the plan comes together, the crew talks with Wells/Thawne over a video link – he tells them that Barry will have 1 minute and 52 seconds (like the 52?) to complete his task…enough time to save Nora but not enough to stop him from returning to the future in that Time Bubble (circa…unknown, but designed by Rip Hunter – nice nod to the next year's "Legends of Tomorrow" series).
Now, we have some relationship moments to discuss.  Ronnie and Caitlin get back together and are married by Professor Stein, who somehow has the qualifications to perform marriages. And, Eddie and Iris get back together, each saying "screw the future" since they can choose their own destiny (at least for now).
Now, we get to the chase…or rather the race around S.T.A.R. Labs as Wells/Thawne says one more time, "Run. Barry. Run!" Barry easily moves past Mach 2 and they release a hydrogen proton in the opposite direction. When Barry collides with it, the wormhole opens and Barry can now see the Speed Force, portrayed here as being sort of a window into infinite timelines.
Barry goes back to THAT night, and appears in his old room. Here's where things get truly shocking…
He is supposed to wait until after Future Flash saves Barry…but Future Flash waves Barry off from doing anything! He has to wait as the Reverse Flash delivers the fatal blow to his mother!
Barry does get to talk to her, to tell her who he is. He tells her that he and Henry are okay and that they love her, and she gets to say goodbye in a heart-rending scene.
Barry then returns to present day just as Wells/Thawne is about to escape in the Time Bubble (we do get to see a winged helmet appear out of the wormhole first…and yes, it looks like we have the possibility of Earth 2 some time in future episodes!).
Barry shatters the Time Bubble and the fight is on! Caitlin and Ronnie race to shut down the wormhole and barely succeed in time, while Wells/Thawne easily gains the upper hand on Barry. He tells Barry that he will not stop with just killing the Flash…that he will kill everyone Barry ever cared about as well. Suddenly, he stops…
As Eddie shoots himself in the chest!
Why? Eddie knows that the only way to stop his descendent is to assure that there is NO way for him to be born. The "man in yellow" is erased from time…but the danger is NOT over!
A new wormhole emerges and becomes that dreaded singularity! It starts by drawing in Eddie Thawne's body, and now it is drawing in EVERYTHING.  We see reactions not only from the S.T.A.R. Labs crew but from just about every other character in the show, including some of the Rogues. Barry realizes that there may be a chance to stop it…if he can run fast enough, with the same technique he used early on against the tornado. Except this time, it is against the material fused together around the singularity! He plunges up and into the mass, traveling faster than he ever has…
And we hit the cliffhanger!
NOTES: Even with my ridiculously high expectations, this episode exceeded them all. The entire cast brought their best acting performances to an emotionally charged, action packed script. We had a few Easter Eggs here and there (like Jay's helmet and Cisco's quote, "So Long and Thanks for All The Fish" – a great Douglas Adams reference) and some true surprises.
I didn't expect Barry to go all the way back in time, only to have his future-self stop him from saving his mother. In a strange way I'm glad he didn't – we didn't need to have to explain FLASHPOINT to an audience that may not have read that series. Still, it was a big surprise to me – and Grant Gustin handled that scene exceptionally well. The only thing that surprised me more (shouldn't have, but it did) was Eddie's sacrifice. Now, with his body swept into the singularity and Barry moving to stop it, there may well be a way to bring him back…but we'll see.
And, if you're wondering, "How could Barry still be the Flash if the Reverse Flash is gone?"…just go back to my earlier notes in the post. Still, I have a feeling we haven't seen the last of Eobard Thawne.
Overall, an exceptional finale to a great first season, with a cliffhanger that opens up almost limitless possibilities for next season. What will be our reality after Barry deals with the singularity? What relationships will still exist…and what people will still exist? This is a great way to go out for the summer, even if I was screaming "NOOOOO!" – it only means I wanted more, and that's exactly how you want a first season to end.
So, what do YOU think? Leave your comments below!
Share