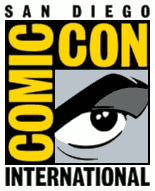 Hey Speed Readers,
As anyone reading this page should know, SDCC 2015 kicks off today, July 9, 2015 with Preview Night. Anyone who has ordered a 4-day pass plus preview and comic book professionals and reporters are allowed a sneak peak at everything a day ahead of the general public. Credit Toynewsi.com for the pics
First up we are going to be taking a look at one of my favorite new lines of 2014-2015, DC Collectibles Arrow and The Flash figures based on the super-popular TV shows. At Preview Night they showed a couple of new figures from both lines ( Reverse Flash, Malcolm Merlyn Unmasked, Heat Wave) as well as a clearer look at the previously revealed Black Canary: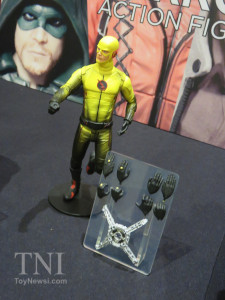 Wow! Look at all the extra accessories and hands! I'm especially digging the attention to detail with making sure to add the ring to his left hand. The Tachyon prototype being included is a beautiful touch. I will definitely have to get multiples of this figure as well.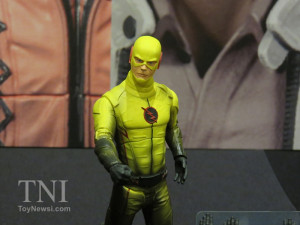 Look at those details! The figure absolutely pops! I also dig how they made him appropriately more muscular than The Flash figure released a few months back.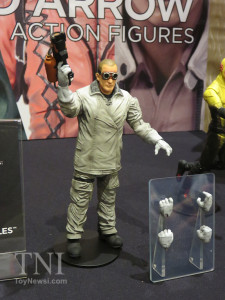 I can't be completely sure but it looks like every figure is getting the extra hand treatment. I noticed they left them out on the Arrow 2.0 release (even after including them in the CW Arrow vs. Deathstroke 2 pack) but now it seems to be back in every other release. Rock on!
In any case, can you believe that this is the first 6-7 inch scale Heatwave ever? I'm definitely going to have to get two (one to throw in my Flarrow display and another to put in the general villain populace). Again I'm digging the extra hands and of course he is in possession of his heat gun. He is also rocking his goggles and I'm wondering if they are somehow adjustable like the recent DC Collectibles New 52 Catwoman action figure.
Now I know this is a Flash website but whether you like it or not "Flarrow" is a thing and know that I fully and wholeheartedly embrace it. With that being said check out Malcolm Merlyn Unmasked and Black Canary!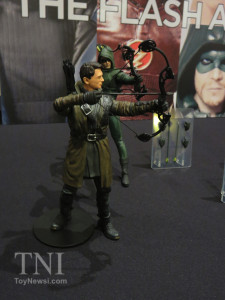 Great to finally get the likeness of John Barrowman on a figure. Needless to say I will also be doubling up on this figure as well. Seriously, we've never had a Merlyn figure either? I know he isn't a major villain but DC Direct/DC Collectibles and Mattel have both gone down the route of obscure characters and it is hard to believe that no one has gotten to Merlyn the Magician. I also find it mildly annoying that DC Collectibles is going down the route of unmasked variants as opposed to swappable heads but hey beggars can't be choosey.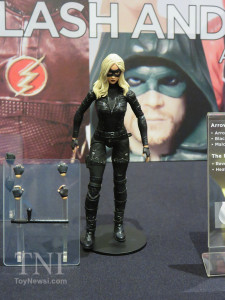 Last season we finally saw Laurel complete her transformation and this figure just about captures it perfectly. Just…about…if you've been following The Flash on the CW or Arrow you know that Cisco (resident Star Labs tech geek) designed something special for her that seems to be absent on this figure. Perhaps it's because the addition came way later in the season. Still she seems kind of naked without it. Again, extra hands are a great touch and that nightstick is perfect.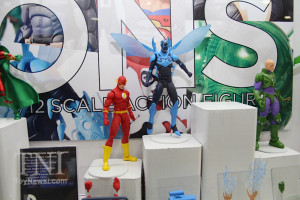 This may seem like the TV figures are getting the bulk of the attention but DC Collectibles' new Comics-based 6 inch line, DC Icons will be featuring The Flash in Wave 2. Many see this line as a spiritual successor to DC Universe Classics, but I can see off the bat that this looks to be something different and special. Just from the individual and intricate sculpts alone I can see that these are going to be miles ahead of DCUC as far as quality and details and you gotta love the character choices so far. Still a little miffed that these new releases won't fit in perfectly with the hundreds of other DC Collectibles/DC Direct figures that I have but again, beggars can't be choosey. Plus an updated Cosmic Treadmill? YES, please!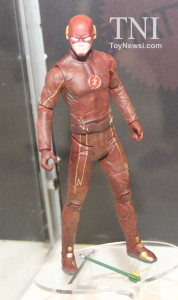 For the last year or so Mattel has been noticeably absent from the 6 inch adult collector game. Sure we had the non-starter Total Heroes that came out last year but ever since the end of DC Universe Classics/DC Signature Collection there has been a gaping hole in the 6 inch DC collector world for quite a well.
Enter 6 inch action figures from Flarrow (CW's Flash and Arrow) marketed under the banner of DC Multiverse. Previously, the Multiverse line consisted of only 4 inch figures, a scale that I really don't care for. Don't get me wrong, if they would have released a Flash I would have totally cherry-picked it but I have way too many 6 to 7 inch figures and way too little space to start again with something like that. But enough yapping, more pics.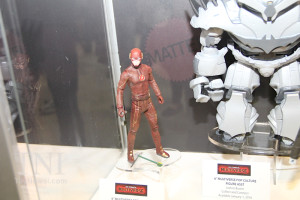 The construct you see on the right is the very stupidly named, Justice Buster and will be the Collect N Connect figure of the new 6 inch Multiverse line. Now I'm not super- sure but I don't believe the 4 inchers ever got anything in the way of a Collect N Connect figure so it is nice to see them go back to that format. It is also nice to see them trying to make figures a little more worth it. Towards the end of Mattel's DC 6 inch shenanigans they weren't even including accessories for figures that cost 20 dollars and up! Are you joking? Value is what I'm talkin' bout! It looks like not only are we getting a Collect N Connect piece but possibly some other accessories as there is an errant arrow laying at Flash's feet. Again not trying to jump to any conclusions but still kind of cool if it is true.
Along with Flash in the wave we will also be getting another Joker (groan) and Mattel's own version of "the Man in Yellow":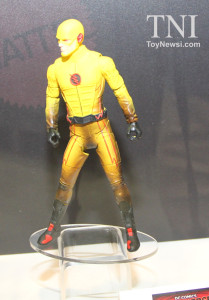 Until we know more details I can only speculate about the nature of these figures. Honestly I'm not even sure if they are really all part of the same wave. Also looking at the pictures I'm a little partial to DC Collectibles representation of The Flash but then I've always preferred DC Collectibles/DC Direct to Mattel. In fact after what Mattel pulled with the DC Sub and the Doomsday fiasco (amongst other things) I'm extremely hesitant to continue to give them my money. However, I'm probably going to end up with the figures anyway. I'm a sucker like that.
Moving on from the more mainstream collectible releases we are now going to take a look at Mezco Toys. Founded in the early 2000s Mezco has grown to include dozens of different licenses similar to Funko but not quite on the same scale yet. And while Funko releases are awesome they are nothing compared to a company like Mezco when it comes to quality. Take for example the release of the Dark Knight Returns Batman 6.75 figure from earlier this year. This figure set the comic action figure world ablaze with it's 30 points of articulation, multiple hands, several accessories and a cloth costume. It seriously set a new standard for what we call an action figure. I only passed on it because I find Frank Miller's art to be appalling, especially those faces. I kind of just sat back and wished to myself that Mezco would get to the Scarlet Speedster sooner than later. Now typically Mezco would have to release 6 more Batman figures, 4 Superman figures and 2 Green Lantern figures before Flash would even be glanced at, but what do you know? A Flash of hope on the horizon! Check this out and you will see why the action figure collecting world went ga ga over this style of 1/12 scale action figures: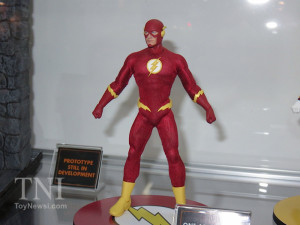 As the card says, the figure is a prototype and still in development, but hot damn if it doesn't look phenomenal. I won't lie, the figure definitely evokes memories of DC Direct's previous attempt to create premium action figures with cloth clothing and while the figures weren't terrible, they definitely weren't perfect. This figure definitely looks to be leagues above what we are used to and I'm all about those 6 inch figures. Seriously, if this is the prototype I can't wait to see the final result.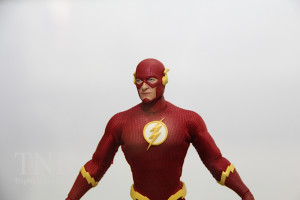 Looking a little closer, I'm not totally in love with the head sculpt but I don't hate it either. Something about the nose looks a little funny but I'm sure those minor details will be worked out by the time this baby sees the light of day.
So what do you think of everything we've seen so far? Anything you are wishing for? Anything I missed? Please, let us know in the comments below.
Thanks for reading,
Share