This may turn out to have been one of the biggest days in FLASH history…at least it's the biggest day in the last several years. We see the end of a terrific run from Van Jensen and company on THE FLASH, and we find HUGE TERRIFIC NEWS WITH SPOILERS ALL OVER THE PLACE in REBIRTH #1! If you are a Flash fan and aren't happy today, there is something seriously, seriously wrong with you. And, if you want to know more, just follow us after the jump!
SPOILERS AHEAD – LOTS AND LOTS OF SPOILERS – YOU HAVE BEEN WARNED!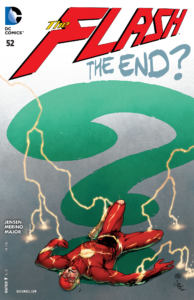 THE FLASH #52
It's the end of an arc and the end of the pre-REBIRTH era for Barry and company. While I wasn't such a big fan of having a member of Batman's rogues gallery be so successful in Central City, I have to admit that I really liked how this wrapped up.  We start with things looking very, very bad for the Flash and for the city he loves…
Riddler thinks he has it all won – Barry has revealed his identity and is willing to be executed in public to save the rest of Central City from Riddler's armed drones.  No one can step in to save him without triggering an all-out assault on Central City, and as a back-up Riddler has a captured Heat Wave set to decimate the entire city if things don't go his way. No one, not the police, not anyone else, appear able to save the day….except for…
Wally West, who now realizes he can do something with his new super speed. He moves at a rate that the drones are guaranteed to pick up, disabling one of the drones and making Riddler think that Barry must be faking…after all, there is just one superspeedster in town, right?  This makes everyone believe Barry was just risking his own life to protect the Flash, and it gives him a chance to go after help…from…
The Rogues!
Short version of what happens next:
Trickster finally becomes useful by restoring Glider, after Flash resets Riddler's "gift" arm to Axel. The change does more than wake her up…now she can transform directly into her meta form, and she joins the rest of the Rogues.
Trickster then is the key to freeing Heat Wave, even though he was injured in the process.
…did I just say two good things about Axel? Yes I did…wow!
The Rogues then help Flash confront Riddler, who brings in ALL his drones in defense…bad move here…
Flash can now destroy all the drones, and now Riddler is out of luck. The Rogues are on the same side as Flash for once…and so are the police, who finally drop their attempt to arrest Barry. The Flash then races off into…the REBIRTH era!
Just a note – one of the alt covers is a tribute to Francis Manapul's iconic pose of the, and the ending page is a pretty clear nod to the first Wally West Flash cover post-COIE.
SUMMARY FOR FLASH #52 – As wrap-up stories go, this was an excellent chapter for Barry. His secret identity is safe, he is no longer hunted by the police, the Rogues are back together and proved once again that Flash's Rogues are better than any of those silly little Bat-rogues that may exist in the DCU…and Wally uses his speed in a way that foreshadows his REBIRTH adventures as Kid Flash. Van Jensen did a great job in wrapping up this arc in his swan song with THE FLASH, with some excellent artwork by Jesus Merino (and great colors by Guy Major).
Just a note here – I have enjoyed the Venditti & Jensen era of THE FLASH, and even though I am looking forward to Josh Williamson's take on my favorite speedsters I must take a moment here to give my opinion about the chapter in the life of The Flash that ends with this issue.  I realize that there are some detractors out there for this run…just like there were detractors during the Manapul & Buccellato run that many also enjoyed.  But, all of these writers were working under the constraints of the New 52 – no Wally West (at least not the original), no marriages (for Barry or Wally), and a much different and somewhat darker vision of the DCU.  As for me, I enjoyed just about every issue of the entire run. Venditti and Jensen brought us the New 52 version of Wally, one who was controversial at first more for his somewhat petty-criminal behavior than anything else, and developed him into a character that has come into his own as he prepares to take on the mantle of Kid Flash. I'm VERY glad to see the original Wally return (see below in my REBIRTH review), but at the same time I'm also glad to see that THIS version of Wally will remain.
I do enjoy Josh Williamson's work (I'm a huge fan of NAILBITER, among other titles), and the interviews he has given about what's coming up for THE FLASH sound really good. Still, I didn't want this moment to pass without saying a proper goodbye and word of thanks to Van Jensen, to Robert Venditti, and to everyone who has worked on THE FLASH up to this point.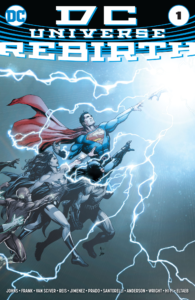 REBIRTH #1
It's Geoff Johns, it's the ORIGINAL Wally West, it's a major change in direction from the New 52, it's…what fans have been pleading with DC to see. What more can you want?
When I was a kid (many, many years ago), I would go down to the local drug store (no local comic shops back then) and plunk down 25 cents for an 80 Page Giant. It had collections of some of the best stories of the Silver Age, and I loved every page.  Now, THIS 80 page book may cost more than a quarter US, but the price IS a considerable bargain…and it changes, well, a LOT in the DCU.
The Flash has been at the center of almost every major change in the DCU since the Silver Age began, and this is no exception…though with a twist. This time it is Wally West, the original Wally West, combined with Barry Allen that makes this change happen. Wally is our narrator for the tale, giving us the lowdown on the REAL story of the New 52. Yes, Pandora was there, but someone else has manipulated the changes, made the world more grim, and worst of all…
They took away 10 years from the DCU.
This explains the more youthful heroes, including Wally himself. Taking away that 10 years meant that all of the DCU heroes are less experienced, more vulnerable, less likely to successfully face…whatever is coming up next.  In the midst of this, Wally himself was drawn out of existence and into the Speed Force itself. He has been trying ever since to be heard, to find some connection to the world so that he can return. The problem is, no one remembers him…not even the love of his life!
In famous tales of the Wally West era, it has been his connection to Linda Park that has allowed him to exit the Speed Force. But, this Linda has yet to meet Wally due to that 10 years stolen from the DCU…and she doesn't recognize him. Neither does anyone else that Wally knows.  Wally sees the other Wally and explains his existence by noting two brothers for Iris with two sons, both named after the same person…and he likes what he sees in the new Wally. He's more than happy to pass on the mantle of Kid Flash, and he is ready to give up, to accept his fate, to fade into the Speed Force itself, so he goes to his mentor to say goodbye…
And that's when it all changes.
Barry finally remembers Wally, and it is that connection that pulls Wally back into the DCU. Barry is tearful, wondering how he could have ever forgotten Wally.  Now, we have a chance to bring back the elements of the DCU that have been missing all along.
Legacy.
Hope.
Love.
And, we also have a new mystery – and a big bad from a most unexpected source.  Unless you've been hiding under a rock and ignoring the internet, you've probably heard by now that Doctor Manhattan is behind all the changes that caused the New 52 universe…but for what? That's a mystery we will have to explore as we move forward into this new era of DC.
SUMMARY: Joy. Hope. Love. Legacy. WALLY! This was a well-written and beautifully drawn epic issue, and while the Watchmen ending is a bit head-scratching (and so is the idea of 3 Jokers) I'm still VERY happy overall with this title. It is a new direction, a fresh take on the DCU that has been sorely needed for a very long time. Think about what we now have: a Superman and Lois that are married with a child who becomes the new Superboy. Arthur and Mera engaged. Hints at Green Arrow and Black Canary finally getting together. The return of Wally West. The full return of the original Titans. A concrete sign of the Legion of Superheroes.  THIS is a great sign of things to come.
Now, before I fanboy out too much, I realize that everything will depend on the execution of all these storylines as we move forward. Still, this is a great start – and I'm happier as a DC fan than I've been in a long time.  Welcome back, Wally – we've missed you!
Share