Some Flashy linkblogging for the weekend…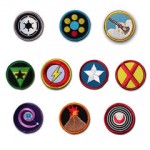 Fanboy Scouts has launched a series of Merit Badges for Geeks including a Speedster badge, awarded for "the display of any of the following speed-related attributes: Super Speed, Speed Control, Kinetic Energy Manipulation, Infinite Mass Punch, Time Travel or Hyper-Vibration."
Check out Mark Grambau's super-hero/super-villain posters.
The Hooded Utilitarian continues reading the Silver Age Flash, this time moving on to the few solo issues.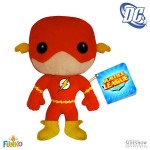 Sideshow Collectibles has the Flash "As you've never seen him before" — as a plush toy! (OK, I have seen Flash plush toys before, but not quite like this one.)
The 1992 Elongated Man miniseries makes CSBG's Year of Cool Comics.
In other speedster news, First Comics News is making August Sonic the Hedgehog Month.