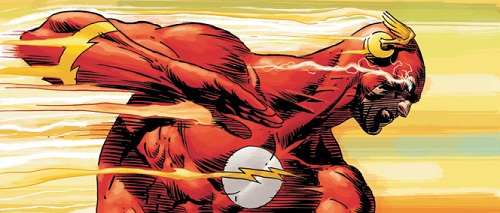 At Comic-Con's Sunday "The New 52" panel, Dan Didio stated that he'd wanted to reboot the DC Universe for five years, since Infinite Crisis*, but that the time didn't seem right. Why not? And why is it happening now?
It makes more sense to tie it to Infinite Crisis: follow up a classic universe-changing event with a new universe-changing event 20 years later and usher in a new "age" of DC comics.
It seems clear that his plans morphed into One Year Later. Like the New 52, it was an attempt to establish a new status quo and provide a new jumping-on point for the entire line.
Something else Didio wanted to do with Infinite Crisis was bring back Barry Allen. He was coy about it for several years, but in the DC Nation column that ran the week of the last issue of Wally West's Flash series, he explained that he'd wanted to bring Barry back with Infinite Crisis, but things didn't work out, so they set up Bart instead. Then he'd wanted to bring Barry back in The Lightning Saga, but again, things didn't work out, so they brought Wally back instead.
So what does it mean that things didn't work out? Continue reading →