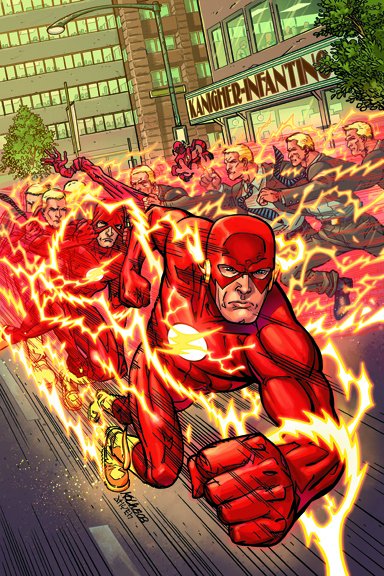 DC has posted seven upcoming variant covers at The Source, including Scott Kolins' take on The Flash #4.
Unless you count the unfinished cover used to solicit Flash: Rebirth #6, This is Barry Allen's first unmasked cover appearance in a year and definitely the first since the relaunch. I like the sign's homage to the classic Robert Kanigher/Carmine Infantino team from the dawn of the Silver Age.
I'm really starting to wonder how long DC plans to keep releasing these 1:10 variants. They've got one listed all the way out through the current solicitations for issue #6. Since none of the alternate covers we've seen so far have anything to do with the story, I suspect DC just asked a bunch of artists to draw a Flash cover and they've been working through the set.
The Flash #4 ships either July 28 or August 4. Diamond reported a delay last month, but that change has dropped off their shipping updates list, and DC's website still shows the July 28 date.