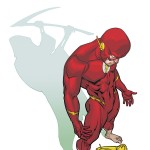 First off, Newsarama interviews Alan Burnett, whose 4-issue arc on The Flash started last week. He very carefully avoids giving out any spoilers, but talks about how he got the assignment and his history with reading The Flash.
Former Flash writer Mark Waid, now Editor-in-Chief of BOOM! Studios, speaks with writer Rockne O'Bannon about his upcoming Farscape comic books at Newsarama.
Marc Guggenheim, the final writer on Flash: The Fastest Man Alive, talks to the Pulse about Spider-Man, where he applies the Chewbacca Defense to "One More Day" and the end of the Spider-marriage, and to CBR about Eli Stone. (Pulse link via Lying in the Gutters; Comics Should be Good riffs on the OMD comments)
Monday's Heroes featured the show's first on-screen speedster, Daphne Millbrook. It was also a very good premiere. Season 3 is off to a much stronger start than last year.
Todd Klein, who designed the first post-Crisis Flash logo in 1987, looks at dots and dashes in comic lettering, and how the typewriter gave comics the double-dash (--) instead of the more standard em-dash (—). Among his examples: the last issue of Flash Comics and the lead story from Showcase #4, the last and first solo Golden Age and Silver Age Flash stories.
Speaking of Todd Klein, last Spring he wrote up a 4-part study of the Flash Logo from 1940 through the present day: Part 1 · Part 2 · Part 3 · Part 4.