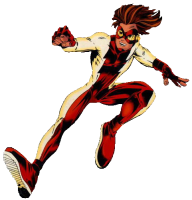 While many fans seem to be taking it as given that Bart Allen will return in Final Crisis: Legion of Three Worlds, there's been considerably less certainty as to where he might continue to appear afterward. Will he return to the present, or stay in the 31st century? Will he return as Impulse, Kid Flash, or the Flash? Will he appear on any sort of regular basis, or just be an occasional guest star?
Rumor column Lying in the Gutters suggests he might be staying with the Legion, or at least be available in that setting:
One San Diegoer tells me, "I was waiting at the Aspen booth at Comic-Con getting a sketch done by current Legion Artist Francis Manapul, when Geoff Johns came over and interrupted to talk to him for a second. Johns had a copy of…his first Teen Titans trade, and handed it to Manapul, which Manapul said, 'I eventually did get my hands on a copy and read it last night.' The two of them talked about Bart Allen for a couple of minutes, with Manapul being very complimentary of how he was written. Johns looked around, saw people were watching, and turned his back and the two of them continued to talk inaudibly for about 10 minutes about something before Johns left.

"Combine that with the vague question that Johns asked at one panel: 'Does anyone miss Bart Allen?' and there has to be something there."
Rich Johnston gives the rumor a yellow light on his traffic-light scale of reliability, so even he isn't sure what — if anything — the conversation means. It could mean absolutely nothing.
Share