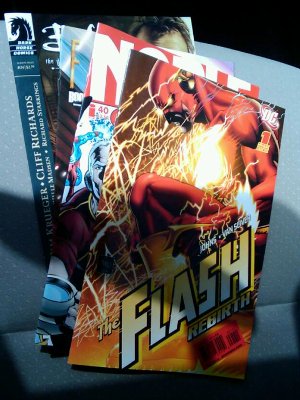 I'll have to wait until I get home to write up a full review [Edit: it's up now], but for now let me say this: Geoff Johns & Ethan Van Sciver's Flash: Rebirth #1 has almost won me over, at least for the duration of this story. It was very well-written and drawn, introduced all four major Flashes and the concept of the Speed Force, and set up a threat right at the beginning.
Some parts seemed a bit too familiar — the opening reminded me a bit too much of "Blood Will Run," for instance, and a flashback reminded me a bit too much of Zoom's backstory. And it was kind of strange watching internet arguments played out on the page with Barry, Bart and Hal taking up different viewpoints.
There were some nice easter eggs for long-term readers — iconic images from throughout Wally's career, references to Barry's hometown of Fallville and Wally's hometown of Blue Valley, a mention of Barry's old boss, Captain Frye.
The one thing that really bothered me was a major retcon to Barry's history that completely changes the character of his family life — similar to retcons made to Wally West's family after Crisis on Infinite Earths. I'm sure Geoff Johns has somewhere he's going with it, but it seems unnecessary to give Barry Allen a dark tormented past, particularly one that contradicts dozens of Silver-Age and Bronze-Age stories, including one that he used himself in "The Secret of Barry Allen."
Update: I've posted my full review.
Share