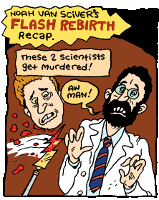 Some light weekend linkblogging:
Wizard has a couple of comic-strip recaps of the first two issues of Flash: Rebirth by Ethan Van Sciver's brother, Noah Van Sciver.
Comics Should Be Good continues a week of Flash-themed Cool Comic Moments with Flash vs. Züm from Grant Morrison's JLA: New World Order. (Züm of the Hyperclan would probably be forgotten if it weren't for this moment.)
TwoMorrows, publishers of The Flash Companion, is having a 50%-off sale on their website. The Flash Companion itself isn't one of the discounted items, but you can pick up some other Companion volumes (Including Justice League Companion and The Titans Companion vol.2), some Modern Masters books, collections of Alter Ego, Brick Journal, etc.
Share