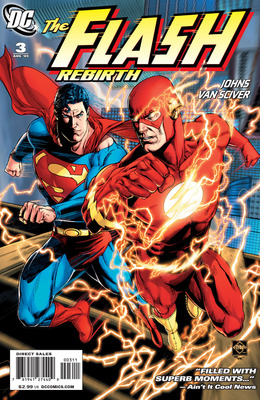 Full review coming later, but here are my initial thoughts on Flash: Rebirth #3.
It was fast — very fast. If Geoff Johns wanted to write a Flash book about speed, he's succeeded. The Superman/Flash race worked well and grew organically out of the story. I liked Barry's reactions to Wally, Jay and Bart. Not to mention seeing certain other speedsters again.
But the reveal of the villain? Too predictable. Too easy. It was the safe choice, like "killing" characters who are already dead. Too much "Let's move the Flash franchise forward into the 1970s!" It reminded me of those Star Wars novels in the 1990s where every time you turned around they introduced yet another super-weapon, because what's Star Wars without a Death Star? Or a Sun Crusher? Or a Galaxy Gun?
I've been willing to give Geoff Johns the benefit of the doubt up until now, based on his run on Wally's series and buoyed by the excitement of getting a top-tier creative team on the book. Rather than convincing me of why Barry needs to be back, it's making me wonder why I should care.
We're at the halfway mark. I should be more enthusiastic than when I started, but instead I'm less. Here's hoping it reads better on a second pass, and that it picks up over the back half of the story.
UPDATE: Full review is up.
See also:
Share