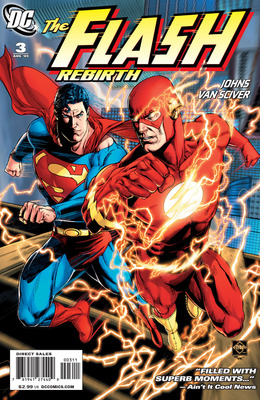 Well, the good news is that this issue does read better the second time through. I've re-read Flash: Rebirth #1 and #2, then read #3 again. Oddly enough, I liked the first two issues better the first time through than the second, and like this one better the second time through than the first read.
The bad news is that the cliffhanger still leaves me cold.
Now it could just be relaunch fatigue. The excitement of "Geoff Johns is back! With Ethan Van Sciver!" has worn off by now, and in a sense the actual relaunch isn't going to be for another four months or more. Flash: Rebirth isn't so much a new direction as it is the process of changing course. It's not the new house, it's the act of remodeling. And you know, it would be nice to actually move into that house instead of watch the contractors working on it.
But the main purpose of Flash: Rebirth is to convince people that the new direction is worth their time. People are asking, "Why should I get involved with a series that DC has relaunched 3 times in the last 3 years? Why should I let myself get attached to this new direction when they change it every 6 months? Why should I let myself get attached to the main character when they replace him every year?" By going back to Barry Allen, the one character whose resurrection was not an option for more than 20 years, they're making a commitment: "This time, we really mean it!" In theory, that should clear away the baggage the Flash has accumulated over the last 3 years and leave it on the same level as any other comics launch.
Which still leaves hooking the readers on the Flash, and hooking them on Barry Allen.
I don't think I can really go into the rest of the issue without spoilers, so… you've been warned!
.
SPOILER WARNING!
.
.
Things I Liked
My favorite page was the one where Bart shows up and asks Barry about Max. I don't know why, but that one just got me. Logically, Bart and Barry have probably met sometime between the end of the Final Crisis books and the beginning of Flash: Rebirth, but this is essentially their first on-panel meeting.
I also really liked the sequence in which Barry runs into the speed force. "As long as I remember Iris, I'll be okay. As long as I remember Iris. As long as I remember…what's her name?" And on the second read, it really struck me that Johnny Quick and Max Mercury are essentially sacrificing what's left of their individuality to help Barry maintain his.
There were actually a lot of moments and elements that I really liked: Barry's thoughts on how Wally and Jay have changed since he saw them last. Barry telling Superman, after Superman reminded him that he actually beat him in a few races, "Those were for charity" and then leaving him in the dust. Barry's determination to save everyone else even at the cost of his own life. Forcing Barry to actually spend some time with Iris (even though it didn't work). The parallels of Jesse seeing her father this issue and Christina seeing Savitar last time.
I also really liked the things Ethan Van Sciver has been doing with the layouts — the tall, vertical columns as Barry drops from the containment cylinder, the full-width horizontal panels giving a strong sense of motion, Superman appearing BAM! onto a full page, the claw-and-skull overlay as Barry is being consumed by the black aura of death.
And the book felt fast.
Things I Didn't Like
Professor Zoom as the mystery villain behind it all. It's just too obvious and, frankly, too formulaic: bring back a dead hero, then bring back his dead adversary. It's like doing a Superman story with a mystery villain who turns out to be Lex Luthor. There's no surprise to it. There's no impact.
I actually would have found it more interesting if they'd gone for Cobalt Blue (possibly with a new codename), because as much as many people hate the character and the concept of an evil twin, I think the concept of Barry's opposite number does have potential — and Geoff Johns has proven the ability to make any villain interesting. Besides, in terms of archetypes, Professor Zoom, Cobalt Blue and the Black Flash are all the Flash's conceptual evil twin (or evil counterpart in TVTropes' terminology).
I guess when I think about it that's my biggest actual complaint. A few other minor bits, like Iris' bow-tie obsession, or the technobabble explanation of Barry's predicament that would do Star Trek: The Next Generation proud. It's not that the rest of the book is bad, it's just that it isn't satisfying.
New Questions
Obviously now that we know who the villain is, the next question is, what is he doing? How did he come back from the dead, or is he just a younger version of himself? Why did he recreate the accident? What does it mean that he "shifted [Barry] into reverse?" What is it that's actually killing speedsters, including the ones who are already dead? The problem is that I'm not intrigued on a story level, just on the level of, "Wait, what? That doesn't make sense!"
Another Perspective
It may be that I'm just too close to the subject. Perhaps, like with my Final Crisis Theory of Impenetrability, I know too much about the way the Flash used to be. How Barry's parents were still around during his career as a super-hero, or other ways that Barry and Iris could have met. Maybe Professor Zoom only seemed obvious because I knew he was Barry's arch-enemy?
For some comparison, my wife read all three issues (so far) of Flash: Rebirth tonight. She's picked up a lot of "Flash facts" from conversation and from proofreading the occasional post, and has read a few scattered issues plus about half of the William Messner-Loebs run (so way before the speed force or Black Flash was introduced). She found the story intriguing, and in particular noticed a heavy emphasis on mentor/student relationships: Barry and Wally. Jay and Barry. Wally and Bart. Max and Bart. Savitar and Christina. Johnny Quick and Jesse Quick. With the emphasis placed on Max, and the fact that he didn't disintegrate at the end of this issue, she theorized that they might be setting up a situation where either Barry or Max can survive, but not both — and someone, possibly Bart, will have to choose.
So maybe I'm being like the subset of Star Trek fans who can't watch the J.J. Abrams movie on its own terms. Maybe the reason I can't get into this version of the Flash is that I keep expecting him to be the Barry Allen whose exploits I read in back-issues, rather than some other Barry Allen who looks the same and knows the same people, but whose personality has been shaped by different life events.
All I can say for sure is that this issue didn't grab me anywhere near as well as the first two did.
See also:
Share