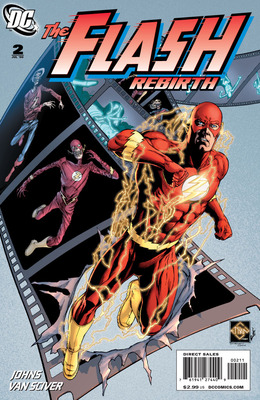 I've re-read the first issue of Flash: Rebirth so that the setup is all fresh in my mind, and I've gone over Flash: Rebirth #2 again. To follow up on my first impressions: Geoff Johns and Ethan Van Sciver continue to deliver a well-constructed story, though some of the pieces it uses strike me as ill-chosen or a waste of material.
Art and Story
Van Sciver's art is, as always, excellent — and incredibly detailed. There's a flashback sequence to Barry's life before gaining his powers, and you can clearly see how some characters have aged over the years. There are also some nice symbolic images, such as Sam Scudder (the future Mirror Master) and his reflection (and props to the colorist who gave him an orange and green striped tie). At one point Barry and Wally get caught up in a battle with a villain, and half of Wally's mask is ripped away. This not only makes it instantly clear which Flash is which (it does get confusing in the pages leading up to that point), but gives us a very clear view of his facial expression on the second-to-last page.
And then there's the cover, an homage to Showcase #4 and Barry Allen's first appearance.
The story picks up on the appearances of Savitar and the Black Flash from last issue, and the unexpected consequences, framed by a painting ceremony in Gorilla City. It follows through on Savitar's appearance more than I expected (at least before DC posted the preview pages last week), though I get the feeling that DC and/or Geoff Johns is seeing this miniseries not just as a way to set up new pieces, but an excuse to throw out old pieces, even the ones that have been sitting unused in the back of the closet for years.
Pacing
Oddly enough, I've had no problems with the pacing of this story, even though the general consensus online (at least among people who aren't long-term Flash readers) is that it's too slow. This is especially odd because my biggest criticism of the last two relaunches — Flash: The Fastest Man Alive's "Lightning in a Bottle" with Bart Allen as the Flash and The Flash's "The Wild Wests" with Wally West and family — was that they started with big six-part stories that were paced too slow for someone whose main claim to fame is speed. I still maintain that if "Lightning in a Bottle" had been condensed into three parts instead of six, fans would have responded much better to Bart as the Flash instead of rejecting him so thoroughly that DC turned around and killed him.
Maybe it's because of the emphasis on Barry Allen, who has always been slow and steady in contrast to his alter ego of the Flash.
That said, I still don't understand why they felt it necessary to explain Barry's bow tie instead of just treat it as an artifact of when the original stories were produced. Modern retellings of Superman's origin don't make an effort to explain away Clark Kent's anachronistic hat — they just leave it out.
I think that's about as much as I can cover without giving anything away, so keep an eye out for spoilers after the jump.
Spoilers ahead!
.
.
SPOILER WARNING
.
.
Characters
This issue furthered the idea that there's something very wrong with the Barry who returned from the speed force — and not just that he has a death touch. Watching him and Iris together, it's hard to recognize the couple whose love conquered the Anti-Life Equation in Final Crisis.
As I said in my initial post, I really appreciated the simplicity of explaining Barry's absence and return by saying he'd been in the Witness Protection Program. Geoff Johns is often partial to over-complicated explanations — just consider the contortions he went through in Final Crisis: Legion of Three Worlds #3 to explain that Bart was "our" Barry's grandson while still unloading the Reboot Legion onto an alternate universe so he could establish his favorite Legion as the "real" Legion of Super-Heroes.
I'm disappointed to see that they have indeed retconned in that greatest of cliches, a tragic parental death to motivate the hero. It's shown in more detail here, and even mentioned in last weekend's Blackest Night #0 (alongside Hal Jordan and Bruce Wayne talking about how their tragic parental deaths motivated them). I do think it makes more sense for Barry's father to have been wrongly convicted, with Barry determined to prove his innocence, than for him to actually be a murderer. Of course, then there's the question: just who raised Barry Allen, if his mother was dead and his father was in prison?
Flashing Back
I really liked the flashback scene (except for the emphasis on the bow tie) the first time through, particularly the way it grounded Barry Allen, forensic scientist among a complete lab staff. Lab tech Patty Spivot and Captain Darryl Frye go back to the late 1970s-early 1980s run (both originally appeared around the time Iris was killed, but have been extended backward here), but the other two are unfamiliar. At first I thought Forrest might be intended to be Chunk, linking a member of Wally's supporting cast to Barry's life, until Patty called him by name. And then there's Desmond…
Given Dr. Alchemy's cameo in issue #1, and the framed story about Mr. Element's capture that keeps appearing in Iris' house, it seems likely that this is intended to be Albert Desmond. When the good side of his personality was in control, he was a friend of Barry Allen's (he and his wife even attended Barry and Iris' wedding). It would certainly make sense for him to be a scientist as well. If it is him, I'm worried about his line from issue #1: "I wonder if you remember me — and if you're still angry about what I did to her." I have a horrible feeling that they've brought back Patty just to retroactively stuff her in the fridge. Let's face it — she'd be at least the fourth character in this miniseries to be dragged out of limbo only to be summarily killed.
The first meeting between Barry and Iris was cute, though I think I prefer the version from The Life Story of the Flash (though now that I think about it, that put a little too much emphasis on the crew cut). I don't like the timing, though, where it seems that he and Iris hadn't even gone on a single date at the time he was struck by lightning. Maybe Johns is trying to go for a symmetry where the two most important changes in Barry's adult life — meeting Iris and becoming the Flash — happened in parallel.
Speed Kills
So they brought Savitar back to life last issue just so that they could kill a powerful speedster without sacrificing anyone "important." And this issue they brought back Christina Alexandrova, whose only appearances over the past 10 years were a handful of panels in Salvation Run…just so they could kill a powerful speedster without sacrificing anyone "important." It's kind of a cop-out (not that I really wanted them to kill, say, Wally or Jay), but it's also a let-down because these characters could have been kept around for future stories. Savitar could have been the major villain in another epic. Christina has a personal grudge against Wally — which, I suppose is the reason she's been moved off the table.
It just seems such a waste.
Finally, there's the Black Flash: the manifestation of death as it appears to speedsters, or perhaps the manifestation of the deadly aspects of the speed force, depending on perspective. It seemed obvious last issue that they were setting Barry up as the new Black Flash — so obvious that I figured they couldn't possibly be going there. But they not only made it clear, they put it in dialog and gave the Black Flash a logo. And changed the color of Barry's costume. Just in case you missed one of the other 37 clues.
The idea that the Black Flash is an actual person transformed into a harbinger of death bothers me. I always saw the appearance as essentially being a matter of perception: Speedsters of the late 20th/early 21st century would think of the Flash as a symbol of super-speed, so they'd see death as a dark, decaying Flash. If Max Mercury had encountered it in his youth, he would have seen something else. Setting it up as (essentially) a job makes me wonder who the previous Black Flash was.
Conclusion:
As with the previous issue, I liked it when I first read it, but the more I think about it, the more some elements bother me. Isn't it ironic that Flash: Rebirth seems to be wallowing in death?
See also:
Share