How I searched for back issues of comics in…
1989:
Look at the local comic store.
Wait for a convention that my parents were going to.
1999:
Look at the local comic store.
Drive around to other stores.
Save up for San Diego Comic-Con.
Look on this new site called eBay.
2009:
Look at a couple of local comic stores.
Look on eBay and Mile High Comics (singles)
Look on eBay and Amazon (for trades & hardcovers)
Look at a convention.
Look for other sources on the net.
Two main things have changed: mobility (I couldn't drive when I was 13) and the Internet.
Limited Range
Back when I was a kid, my main options were two local stores: The one my parents visited regularly, and one that subsequently opened close enough for me to walk to. It was at that first store that I picked up my first comic book, Captain Carrot and His Amazing Zoo Crew #19. The series was canceled after #20, so I started looking for back issues very quickly!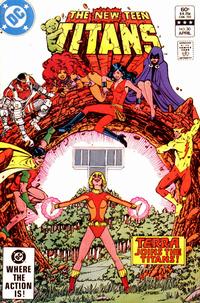 I also had some access to conventions. My parents went to sci-fi cons, and would bring me and my brother along. I remember running around to all the comics dealers at the 1984 WorldCon (a.k.a. L.A.con II) looking for back-issues of The New Teen Titans, trying to figure out who this Terra person was and why she wasn't in any of the current issues.
Silver-Age
Cons became a more important source when I started looking for the Silver-Age Teen Titans books. Fortunately, this was around the time that we started going to what was still called San Diego Comic-Con (starting in 1990), so the percentage of dealers who actually sold comics was much higher!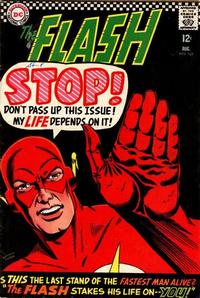 Later, when I started looking for pre-Crisis Flash books, this became my main source. I tapped out the local stores' supplies of Bronze-Age Flash, and even though I could drive elsewhere, no one around seemed to have much in the way of Silver-Age Flash. So it was back to Comic-Con with a new list, and I'd pick up a handful of books each year. Though I do recall spotting a comic store while on a road trip with my girlfriend (now my wife), one of our friends, and her family (in another car), and convincing the others to stop for a few minutes so I could look. I think that might have been where I finally filled in the last missing issue of the Trial of the Flash.
The Web Arrives
Then I discovered eBay. Suddenly, I didn't have to wait until the next convention. (I don't remember why I didn't just look for other conventions. I suppose my brain was just too focused on other stuff back in college.) So many issues, right there. All I had to do was sort through for the ones I wanted and find something in my price range.
After I filled in the last of Barry Allen's series, I dropped out of the hunt for a few years. For almost two decades, I'd had one series or another that I was trying to complete, and now they were all done. Around the same time, I lost interest in Comic-Con. The hunt had been one of the main reasons I'd enjoyed going. I found a new way to enjoy the convention by finding the time to go more than one day, re-focusing on the panels and events instead of looking for old comics.
Going for the Gold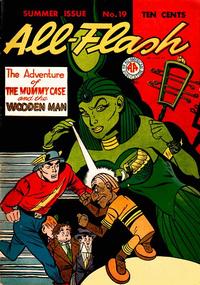 Then I bid on a few Golden-Age Flash auctions for the heck of it, fully expecting to be outbid on all of them, and won two. I realized I could find 1940s books within my budget, and rejoined the hunt.
At first I tried stores and conventions. The local stores didn't really have anything older than the 1980s. I called some other stores within driving distance, with no luck. One day I had several free hours in Pomona, and tried some stores in that area, which sent me to a collectibles fair, where I actually found a few books…way outside of my price range. I drove up to the not-quite-monthly "convention" at the Shrine in LA, and found the same (though I did find some interesting small-press gems including Discworld, Hawkmoon and Elric adaptations). All the while, I thought, "Comic-Con is coming up, I'll find some stuff there!" And of course I didn't.
The problem is not just that Golden-Age comics are scarce. It's a matter of supply meeting demand. As near as I can tell, most people buying Golden-Age comics are serious collectors, and they want the book so they can have a piece of comic book history in their collection. So dealers focus on the best copies they can find, the ones that will sell for $300, $700, $1500 or more. But I didn't want good copies of a few issues, I wanted readable copies of as many issues as I could find. I was looking for the beat-up copies that would run $10–50, and dealers just don't seem to carry those. In 3½ years, every single Golden-Age Flash issue I've bought has been bought through the internet, most of them on eBay.
Trades
These days, when I look for specific comics from 1980 onward—say, an issue of Justice League with a character I'm researching—I'll usually try the local stores first. It's faster, for one thing, and I like having those stores around. If they don't have them, I'll go to the web. And if it's pre-1980, I'll go straight to eBay and Mile High.
With more recent back issues, I tend to go for the trade paperbacks. Sometimes I'll pick them up at the local store, sometimes I'll wait for a good deal on Amazon, sometimes if I have a gift certificate at Barnes & Noble or Borders, I'll pick one up at a bookstore (I like encouraging bookstores to keep carrying graphic novels). And sometimes I'll look through boxes at conventions.
And I'm always open for actual trading. I've got a list of comics I want to sell. Take a look, and if anything looks interesting, let me know.
How About You?
So, readers: how do you generally look for old comics? Do you dig through back-issue bins at stores? Do you save up for conventions? Do you go straight for eBay or another online source? Do you not bother with physical books and just look for scans?
Originally posted at K-Squared Ramblings. I've been meaning to repost it for a while, and a week before Comic-Con seemed like the right time. Covers courtesy of the Grand Comics Database.
Share