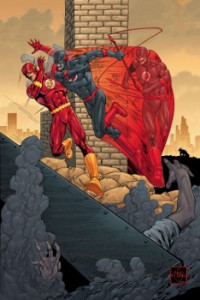 Wow…this would be hilarious if it weren't…actually, scratch that. It is hilarious.
DC's website now shows Flash: Rebirth #5 as shipping on November 11, 2009. A week ago it was scheduled for November 4. A week before that it was October 28. Two weeks before that, it was October 14. And it was originally supposed to be out on August 26!
No change yet on the schedule for Flash: Rebirth #6 or Blackest Night: Flash #1. DC's January solicitations should be up next Monday, though. There may be some leeway since January is a "skip month" for Blackest Night, though it's not clear whether it's only the primary miniseries or the side series like Blackest Night: Flash, Blackest Night: Wonder Woman and Blackest Night: JSA that are skipping. If we see BN: WW #2 and BN: JSA #2 on the schedule, but not BN: Flash #2, we'll know something's up.
I'm beginning to feel like I should start a betting pool for when Flash: Rebirth will actually wrap.
Update: Now it's November 18.
Share