DC Direct's solicitations for November give us some definite dates on two great Flash collectibles. Blue Lantern Flash as part of the sixth series of Blackest Night figures and a DC Chronicles Flash statue.
BLACKEST NIGHT: SERIES 6: BLUE LANTERN FLASH Action Figure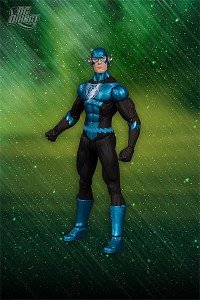 The hugely successful BLACKEST NIGHT action figure line continues with four awesome new characters!
Included in this sixth installment of the series are Hal Jordan, the personification of the Green Lantern Corps; Wonder Woman, who finds the power of love and joins the ranks of the Star Sapphires; Hawkgirl, who was one of the first heroes to lose her life to the dark power of the Black Lanterns; and The Flash, who couples the power of the blue ring with his trademark speed to carry the message of hope to all.
All four figures feature multiple points of articulation and include a display base. Character-appropriate accessories are also included.
4-color clamshell blister card packaging.
On Sale November 3, 2010
And
DC CHRONICLES: THE FLASH Statue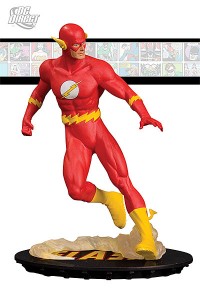 SCULPTED BY TIM BRUCKNER
The Fastest Man Alive kicks up a dust cloud as he slides into the DC Chronicles statue series!
This statue features The Flash of the Silver Age, Barry Allen, in his classic costume.
The DC Chronicles statue line has a consistent base, and the retro-style logo on the base further gives the piece a sense of the period from which it originated.
This limited-edition, hand-painted, cold-cast porcelain statue measures approximately 6.75″ high x 5″ wide x 3.5″ deep and is packaged in a 4-color box with a 4-color Certificate
of Authenticity.
Manufactured to order.
$ 99.99 US | On Sale November 24, 2010
I'm really looking forward to Blue Lantern Flash as it will look great poking out of the field of red and yellow in my display. I'm also loving the sculpt. Reminds me of Wally West from the first series of JLA action figures they released a few years ago. Perfect build, great sculpt and a slick paint job.
I'm not really a statue guy. I do own a few but rarely if ever will you find me anticipating the release of one. This one is no exception unfortunately. I'm not really in the market for Barry Allen statues these days anyway. And I would need a Wally in new costume as an action figure first. Hint hint.
Share